Excerpt 10
Full Circle: Gay Men Flouting Safe Sex in Search of Identity
This article appeared in September 2003, almost a full six years after our first excerpt from QIS II identified condomless, promiscuous anal penetration as key to gay male identity.
In this article, a British researcher asserts that the rate of condomless anal penetration has increased, and blames the increase on the gay male "search for identity."
Thus we can see that despite six years of ever better-funded condom campaigns and increases in budgets for "safer-sex" education, the level of unsafe sex has actually increased, and as we make clear in Media Watch, HIV and other STI prevalence has also increased among men who have sex with men.
[Begin excerpt]
Gay Men Flouting Safe Sex in Search of Identity

Tue Sep 9, 2003

MANCHESTER (Reuters) - Thousands of young gay British men are courting death in the hedonistic and newly promiscuous 21st century, flouting safe sex and actively trying to catch HIV in their search for identity, a researcher aid on Tuesday.

Melissa Parker of Brunel University said the gay sex pub, club and sauna scene in London was booming and had been growing steadily since the mid-1990s, with unprotected sex with multiple partners the rule rather than the exception.

Catching the AIDS precursor HIV was not just a risk, it was a goal, she told reporters at the annual meeting of the British Association for the Advancement of Science.

"Being diagnosed with HIV is a badge of recognition of being truly gay," she said. "There is a sizeable number of young gay men new to the gay scene, exploring their sexuality but wanting to belong. HIV is seen as a bonus."

People diagnosed with HIV were not only admired for championing the cause, but were seen as being pampered by society with better social support, health care and even standard of living.

The combinations of therapies now available for people with HIV might even have exacerbated the problem.

"They have made HIV less frightening," Parker said.

She said some gay sex clubs, pubs and saunas had a throughput of up to 500 people a day with some men managing 30 to 40 sexual partners a visit.

Admitting that she had no figures to support her claim, she said her research consisted of a series of interviews over several years with a large number of sexually active gay men whose stories corroborated each other.

"They are all talking about it and they are all very concerned," Parker said.

She urged the authorities to tackle the issue urgently, reinforcing the call for safe sex and if necessary closing down some of the venues.

"Many lives will be unnecessarily destroyed if this advice is ignored" she said.
[end of excerpt]
Commentary:
First of all, it should be noted that Dr. Parker's research, which simply confirmed what numerous observers had already pointed out -- the rise of a large-scale barebacking movement -- was greeted with disdain by the UK Coalition of HIV Positive People, who insisted that anecdotes about men being penetrated by high numbers of multiple partners in a night were fantasy, and that those who sero-converted, did so almost always by accident.
Neither assertion is credible.
Since the start of the barebacking movement in 1996-97, the gay press has regularly carried stories about barebacking parties in which men were penetrated by multiple partners.
Indeed, barebacking activist Stephen Gendin, who died of AIDS in 2000, wrote about such parties for POZ, the nation's leading HIV monthly.
And the fact is that any time a person barebacks, he's bug-chasing -- that is, he's leaving himself open to infection with HIV.
Yet, while Dr. Parker has correctly identified the problem as one of barebacking in search of a gay identity, she's wrong that "reinforcing the call for safe sex" is going to solve it.
The fact is that young gay Brits, like their American counterparts, have been inundated with safer-sex messages all their lives.
Do the math:
Today's 18-year-old barebacking gay boys were born in 1985 -- the same year as "safer sex."
They've literally grown up with safer-sex, and the one thing they don't need is more messages about condoms.
I'll say it again: They don't need more condom campaigns.
What they need is an anti-anal message.
A message that debunks anal and attacks its mystique while offering men who have sex with men a hot, masculine, more pleasurable and mutually pleasurable alternative.
Absent that message, the epidemic will continue.
I repeat: those young gay men know about condoms.
Nothing Dr. Parker can tell them will be news.
What they don't know about is Frot: genital-genital sex which is uniquely male.
And that there are literally millions of gay, bi, and straight-identified men who have sex with men who never go near anal.
And they don't know it because their AIDS Service Organizations aren't telling them.
Pornographers aren't telling them.
Tom Coates isn't telling them.
GayHealth-dot-com isn't telling them.
PlanetOut isn't telling them.
The Advocate isn't telling them.
Dan Savage isn't telling them.
Nor is the New York Times or The Boston Globe or any other major or even minor American newspaper.
And neither is the religious right.
The only entity in all of gay and bi male life which is telling the truth about sexual alternatives is The Man2Man Alliance.
Only we have consistently called for "realistic assessments of pleasure and risk" in the various sexual activities available to men who have sex with men.
And only we have coupled that with a call for Fidelity.
FIDELITY and FROT: that's the program of The Man2Man Alliance, one which will radically reorder and improve the lives of men who have sex with men.
---
AFTERWORD
What I hope is clear from these excerpts is the extent to which gay men in America consider themselves defined by anal sex and promiscuity, and the extent to which the safer-sex establishment and gay media support that definition.
Without question that makes the task of promoting Fidelity and Frot among men who have sex with men far more difficult.
Among American gay and bi men, promiscuity and sexual experimentation, and most particularly anal penetration, are viewed as entitlements, and I know from my own experience that many gay men become rabidly angry when it's suggested that these behaviors are dangerous and should be changed.
Indeed, in the last three years of doing this work I've been subjected to more personal or ad hominem attacks -- being called a crackpot, a religious fanatic, a homophobe, and an erotophobe -- than I'd been in the preceding twenty-seven altogether.
Yet what Chuck Tarver and I are proposing is not radical: that we could reduce the prevalence of HIV by reducing the prevalence of anal sex and promiscuity, and that, as it happens, there's an alternative to anal sex which is far more pleasurable and very low risk.
So our task is to build upon the successful lives of those men who are already practicing sexual responsibility in the form of abstinence, fidelity, and non-anal alternatives, particularly Frot, and to work to defund condom campaigns and other programs which, as Ted Green says, "assume that behavior is difficult or impossible to change,'' and in which "There was and is no discouragement of any form of sexual behavior, or injecting drug use."
If we are successful, not only will we end the current epidemics of anally-vectored STIs, but we will have brought about a radical re-ordering of the lives of men who love men, allowing them to forge a new culture in which sex is genital, masculinity is prized, and fidelity is honored.
A culture, in short, of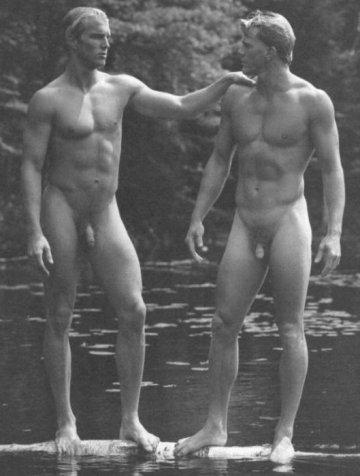 February 5, 2004
REFERENCES
Barry Adam, Relationship Innovation in Male Couples, paper presented to the American Sociological Association, 2003.
Edward C Green, "New Challenges to the AIDS Prevention Paradigm," Anthropology Weekly, June, 2003.
Daniel Halperin, Heterosexual anal intercourse: prevalence, cultural factors, and HIV infection and other health risks, part I. AIDS Patient Care 13 (12): 717-730, 1999.
Arnold Melman, study on penile sensitivity presented to the American Urological Society, Chicago, 2003.
Reynolds SJ et al. Male circumcision is protective against HIV-1 but not other common sexually transmitted infections in India. 41st Annual Conference of the Infectious Diseases Society of America, San Diego, 2003.
Gabriel Rotello, Sexual Ecology: AIDS and the Future of Gay Men, 1998.
Chuck Tarver Fighting the Conformity that Kills July, 2003.
Treas J, Giesen D. Sexual infidelity among married and cohabiting Americans. Journal of Marriage and the Family. 2000;62:48-60.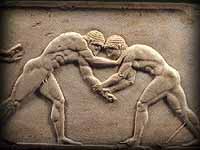 ---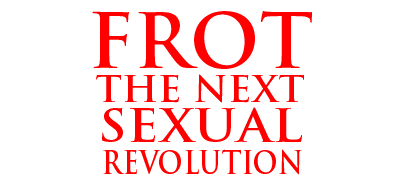 is presented by The Man2Man Alliance, an organization of men into Frot
Click here to read An Introduction to Frot and The Man2Man Alliance.
Click here to understand more about Heroic Homosex.
Or visit our FAQs page to learn more about Frot Men.
---
Frot: The Next Sexual Revolution Home
| What's Hot About Frot | Hyacinthine Love | THE FIGHT | Kevin! | Cockrub Warriors of Mars | The Avenger | Antagony | TUFF GUYZ | Musings of a BGM into Frot | Warriors Speak | Ask Sensei Patrick | Warrior Fiction | Frot: The Next Sexual Revolution | Sex Between Men: An Activity, Not A Condition |
| Heroes Site Guide | Toward a New Concept of M2M | What Sex Is |In Search of an Heroic Friend | Masculinity and Spirit |
| Jocks and Cocks | Gilgamesh | The Greeks | Hoplites! | The Warrior Bond | Nude Combat | Phallic, Masculine, Heroic | Reading |
| Heroic Homosex Home | Cockrub Warriors Home | Heroes Home | Story of Bill and Brett Home | Frot Club Home |
| Definitions | FAQs | Join Us | Contact Us | Tell Your Story |


© All material on this site Copyright 2001 - 2011 by Bill Weintraub. All rights reserved.