Interracial Frottage
7-24-2002
I am a WM who enjoys wrestling nude w/a black dude. Its hot and erotic to entwine R bodies and R cocks and balls to to the point of final explosion. Hot and sweaty black and white skin engaged in cock fighting while we 2 men R making m2m luv to one another. R cocks and balls are fighting each other but we R enjoying the interracial aspects of black and white together.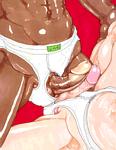 COCKRUB WARRIORS RULE
---

07-27-2002
First time wrestling and frot
I was 18 and in the army and the unit had gone to the field but I was left behind because of an infected finger. I was in the barracks alone and a newly assigned guy came into this platoon. The CQ (charge of Quarters) told me to help this guy get settled. He was also 18 and about the same size as I and was a black dude. I am white by the way.
Anyway we spent the day just getting aquainted and discovered that we had a lot in common. We both liked sports and read a lot so we decided that we wud be each others platoon partners and help each other get through the crap everyone had to go through. After chow in the evening we hung out at the Unit dayroom watching TV until lights out at 10pm.
When we returned to the barracks, we decided to shower. In the shower we sized each other up and it was obvious that we both liked what we saw.
After the shower, he asked if I wanted to wrestle and I said sure. We took mattresses from some empty bunks and made a wrestling mat.. We were just wearing boxer shorts and as we grappled together our cocks got hard and and we locked together in schoolboy pins and rolled around, our cocks came out of the boxers and touched. We both pulled the boxers off each other and locked our naked sweaty black and white bodies together. Yes we both came all over each other. As we lay exhausted we told each other how we had always wanted to do that and then we continued jerking each other off and being very affectionate with each other. We kissed each other passionately and also 69ed each other. It was the first experience that either one of us had and it has lasted a lifetime. Yes we do see each other occasionaly and both of us are now married. We do consider each other to be brothers.
thom
PS i'm now 5'11, 175 40 y/o in shape and i still luv to wrestle nude and luv interracial m2m frottage.

AND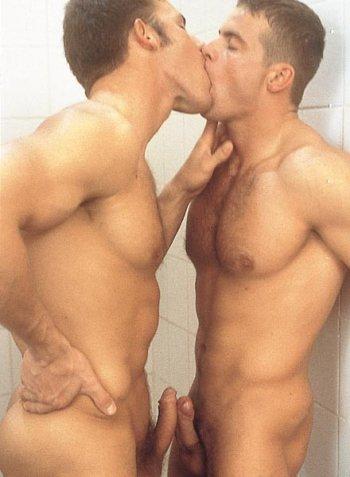 ---
Warriors Speak is presented by The Man2Man Alliance, an organization of men into Frot
To learn more about Frot, ck out What's Hot About Frot
Or visit our FAQs page.
---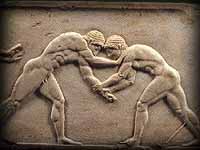 | What's Hot About Frot | Hyacinthine Love | THE FIGHT | Kevin! | Cockrub Warriors of Mars | The Avenger | Antagony | TUFF GUYZ | Musings of a BGM into Frot | Warriors Speak | Ask Sensei Patrick | Warrior Fiction | Frot: The Next Sexual Revolution |
| Heroes Site Guide | Toward a New Concept of M2M | What Sex Is |In Search of an Heroic Friend | Masculinity and Spirit |
| Jocks and Cocks | Gilgamesh | The Greeks | Hoplites! | The Warrior Bond | Nude Combat | Phallic, Masculine, Heroic | Reading |
| Heroic Homosex Home | Cockrub Warriors Home | Heroes Home | Story of Bill and Brett Home | Frot Club Home |
| Definitions | FAQs | Join Us | Contact Us | Tell Your Story |


© All material on this site Copyright 2001 - 2010 by Bill Weintraub. All rights reserved.