Prefatory Note from Bill Weintraub
First off:
If you're new to the Alliance, please click here for important information which will help guide your reading.
Next:
This Lexicon of Manhood is a foundational, book-length article for the work we'll be doing in the Alliance in 2013 and thereafter.
It's essential therefore that you read the article.
And really read it.
I've included a Word List -- that is, a list of the individual words discussed in the Lexicon -- for easy reference.
However, glancing at that List is NOT a substitute for reading the article line-by-line all the way through -- at least once.
If you don't do that, you'll be unable to understand the ensuing discussions.
For that reason, I've put the Word List at the end of the article.
Because, and again, it's essential that you do read the article -- and preferably more than once.
As I said, the Lexicon is a book-length article.
It begins with this Preface, which is then followed by a Prolegomena.
"Prolegomena" is a term often used by scholars which derives from the ancient Greek words "lego" -- "I speak" ; and "pro" -- meaning "before."
Pro lego -- Speaking before, speaking first, as the dictionary explains:
Prolegomena :

1. A preliminary discussion, especially a formal essay introducing a work of considerable length or complexity.

2. Prefatory remarks or observations.
And that's what this Prolegomena to Manhood: A Lexicon is -- "a formal essay introducing a work of considerable length and complexity," which contains "prefatory remarks and observations."
So -- just as with this Preface you're currently reading, it's *essential* that you read the Prolegomena -- before you read the rest of the work, which is, indeed, "of considerable length and complexity."
Now: Because this Lexicon is both long and complex, I've separated it into sections -- for ease of reading.
And I've given each of those sections its ancient Greek name --
So -- the ancient Greeks divided a long work, like this one, into "books" -- Biblia.
And the books in our Lexicon of Manhood are called Biblion Proton, Biblion Deuteron, Biblion Triton, Biblion Tetarton, and Biblion Pempton -- meaning First Book, Second Book, etc.
Why follow that ancient Greek practice and use those ancient Greek words?
Because I want you guys to increasingly understand that contemporary American culture is your enemy -- and ancient Greek culture -- your friend.
And to get used to ancient Greek words.
Which are really not difficult.
For example:
Biblios = Book ; and you all know a book called the Bible -- so that's not a stretch for you.
Proton = First ; and you've all heard of Prototypes, which are the First of their kind.
Deuteron = Second ; just think of Duo -- two. And there actually is a Greek word "duo," and deuteron is the comparative form of that word.
Triton = Third ; "tri," as in Triple -- and Triangle --
and Trident: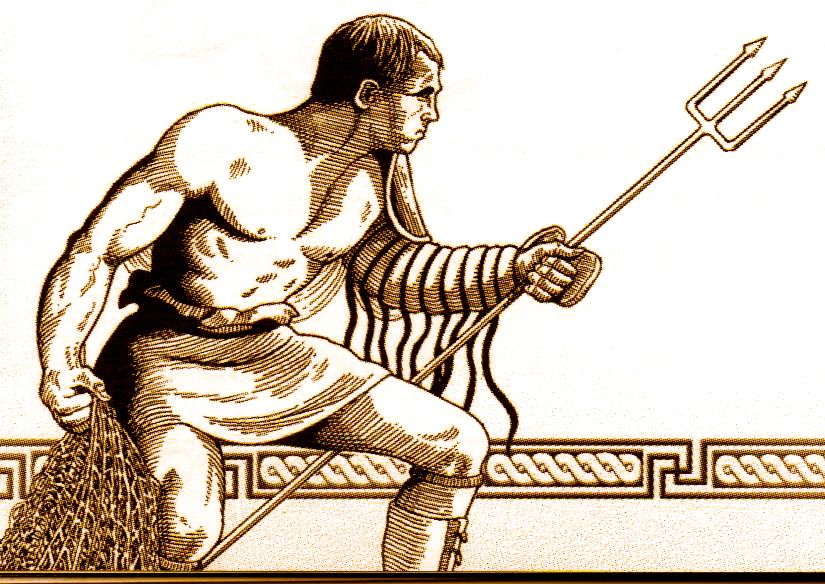 Not difficult.
Then there's Tetarton = Fourth.
Ever heard of a Tetrahedron?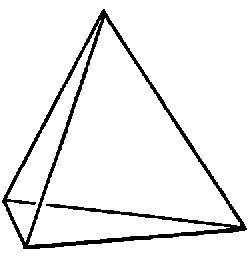 A Tetrahedron has Four sides.
What about Pempton = Fifth?
It derives from Pente = Five -- as in Pentagon.
And Pentathlon.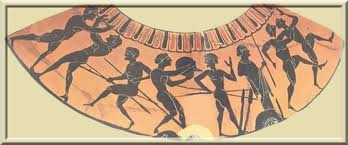 There were Five events in the ancient Greek Pentathlon.
So -- First, Second, and Third -- are easy.
While for Fourth and Fifth -- you have to think a little bit.
So what?
Listen up:
You're not going to get what you want, and you're not going to go where you want -- in this life -- through easy.
YOU'RE GOING TO HAVE TO WORK.
Right now the "gay" community is riding high -- it has, essentially, achieved all its goals.
How did it do that?
By WORKING.
You've achieved nothing -- in fourteen years.
Because you've sat on your hands -- and your well-padded butts -- and refused to do *anything* which might even remotely challenge the status quo -- or -- your precious self.
No way that will ever get you anywhere -- other than where you already are.
Which is nowhere.
YOU HAVE TO WORK.
And if that means learning a few new words and reading an article -- that's what you'll do.
So, the Lexicon is divided, after the Prolegomena, into Biblion Proton -- First Book ; Biblion Deuteron -- Second Book ; etc.
There are five books in all.
And, as it happens, the first book, Biblion Proton, which is titled "The First Notion of Goodness," has three distinct parts : Prologue ; The Alphas of Male ; and -- Honor: The Morally Beautiful, the Righteously Erect, and the Warrior Worthy.
All three of those parts demonstrate how the Greek language speaks to the idea and ideal of Manhood -- as the first notion -- of Goodness.
The next two books, titled "Primal Love" and "UN-forgetting," are each unitary -- there are no divisions within them.
While Biblion Tetarton, titled "Fight is the Father of All," is divided into five parts.
Regardless, however, of how the individual books are structured, it's very important that you read the books IN THE ORDER GIVEN in the Table of Contents.
For example -- some of you may see this in the Contents --
Biblion Pempton -- Fifth Book
Warrior Kosmos, Warrior Sanction
Ares is Lord : Manhood is God
and want to read the Fifth Book first.
DON'T.
Read the First Book first ; and then the Second, etc.
Because you won't understand what comes after each book -- unless you've read what comes before.
The Table of Contents appears just before this preface, at this link, and here as well: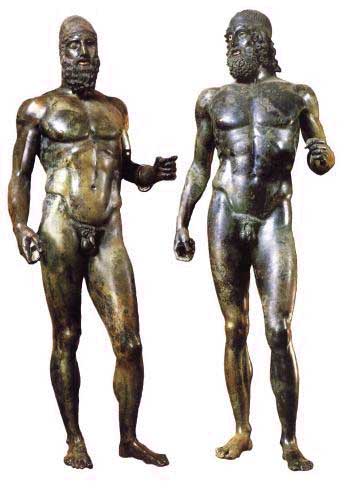 ---
Prefatory Note -- please read this first.
Prolegomena: Men, Manhood, and Fighting -- please read this next.
MANHOOD -- A LEXICON
After reading the Prolegomena, please read these Penta Biblia -- these Five Books -- in the order given:
Word List -- Words discussed in this Lexicon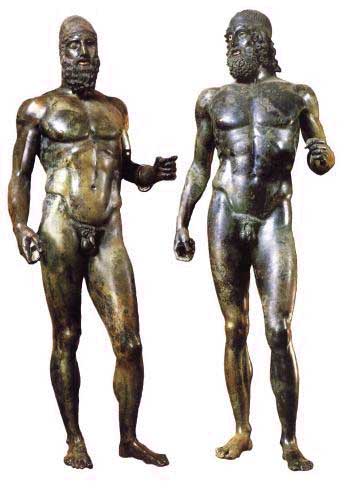 ---
Because the Lexicon is long, and, more to the point, contains a great deal of information, I strongly suggest you read one section at a time -- the Prolegomena, followed by Biblion Proton, Prologue, followed by Biblion Proton, The Alphas of Male, etc.
In other words, give yourself some time to digest and think through the information you've received in one section -- before going on to the next.
At that rate, it might take you a week -- or a month -- to read the entire Lexicon.
That's fine, and appropriate.
The Lexicon is long, and it's complicated.
Give yourself time.
And of course I also strongly encourage you to read the entire Lexicon more than once.
The ideas contained in this Lexicon, as in all the articles on this site, are complex.
For the vast majority of people, one reading does not and will not suffice.
And, like I said, it's important that you read the Lexicon in the order given ; don't read the second book before reading the first, for example.
Now:
To those of you who will complain that the article is "too long" and "too much to read" etc and ad nauseum -- this is my response:
I'm no one's fool, and certainly not yours.
I know how much time you waste on the internet looking for pix of guys' dicks, reading the latest celebrity trash on Yahoo!, etc.
Not to mention the time wasted watching cable tv.
I know because you write to me about it.
So I do know.
You spend a lot of time -- a LOT of time -- polluting your minds.
Which means that --
You have more than enough time to read this Lexicon, if you so choose.
And -- That you need to stop surfing the net looking for meretricious crap -- worthless filth which has, and will continue to, destroy you -- and truly concentrate instead on the Alliance.
Because, as I often say, Being Determines Consciousness.
If you continually immerse yourself in the world's mainstream hedonist and viciously avaricious culture -- that will become your consciousness.
Your debased and ignoble consciousness.
Which it already is for 99.99% of you.
If, by contrast, you immerse yourself -- and I do mean immerse -- yourself -- in the Virtuous Manhood which we here present -- that will become your consciousness.
Your Virtuous and Manly Consciousness.
So:
You can have Virtue or vice.
But you cannot have both.
And you'll never have what you claim you want --
Unless you choose Virtue -- which, as you'll see, is Manhood -- and then *act* on that choice.
Bill Weintraub
July 4, 2013
---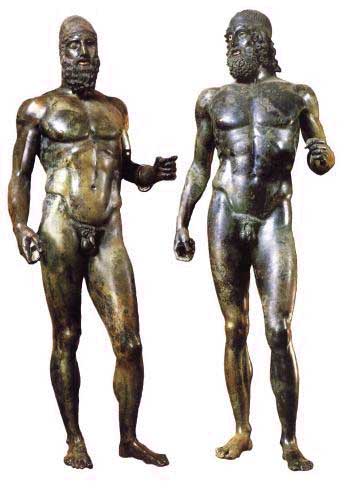 ---
Prefatory Note -- please read this first.
Prolegomena: Men, Manhood, and Fighting -- please read this next.
MANHOOD -- A LEXICON
After reading the Prolegomena, please read these Penta Biblia -- these Five Books -- in the order given:
Word List -- Words discussed in this Lexicon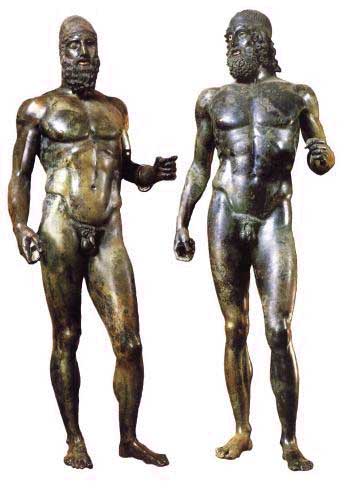 ---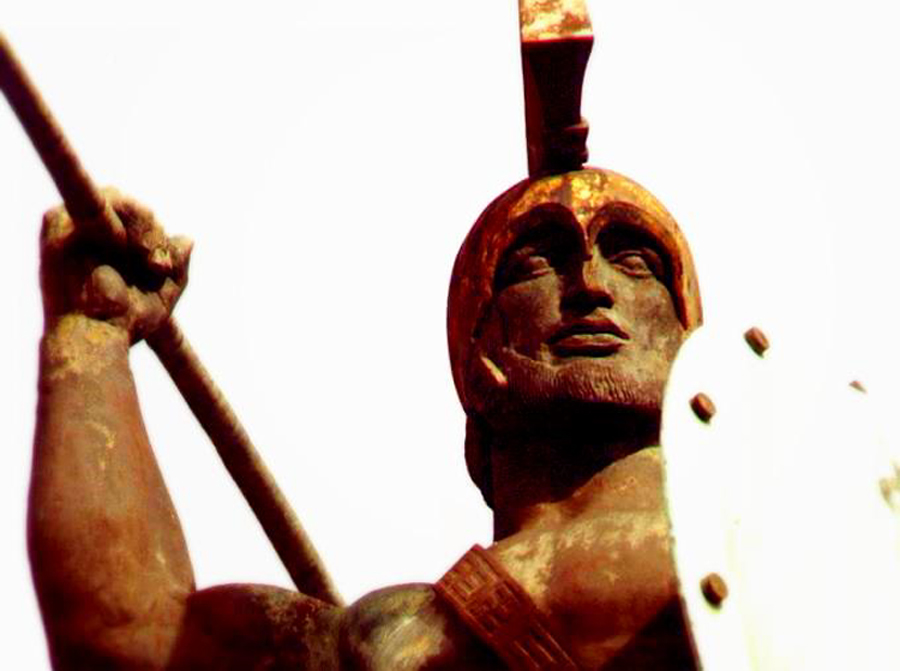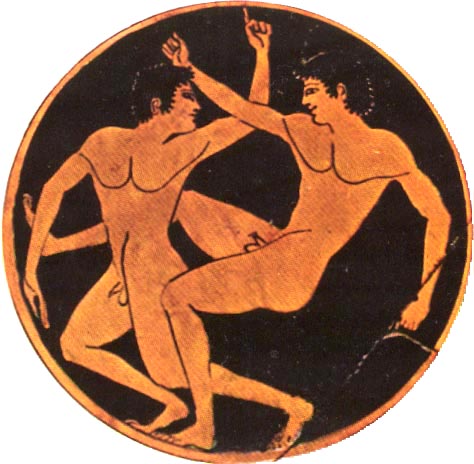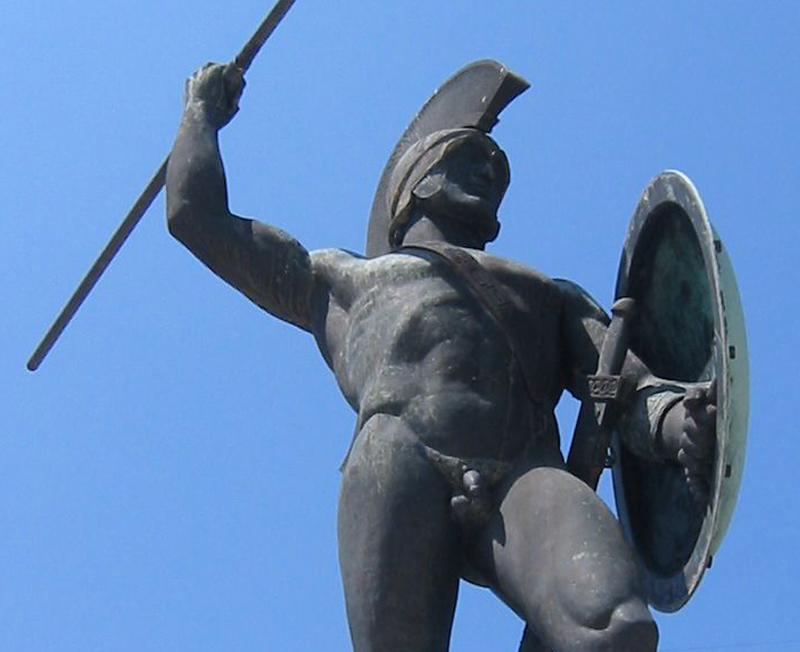 ---
The Greek letter R -- which is Rho -- looks like our letter P in both upper and lower case.
One is epsilon, which looks our letter E, and the other is eta, which in lower case looks like our lower case letter n.
And there's an extremely strong relationship between the two, which Liddell and Scott make plain by putting the two words side by side:
Areté -- Manhood, valour, prowess, goodness, excellence -- flows from Ares -- the God of War -- or, to be more precise, the God of Fight.
And agathos, being the adjectival form of the noun areté, carries the same connotation of Manliness which derives from and is inextricably linked to -- Fighting.
So: de Selincourt translates the passage about the gallant Aristonicus as -- "he Fought like a Man" -- and that's correct.
He fought like a Man -- a Manly Man -- that is, a Man in full possession of his Manhood.
The point being that to the Greeks, what defined a Man and Manhood -- was the Willingness to Fight.
So you'll NEVER know -- despite all your male-posturing -- what it means to be a Man.
But -- we know from Plutarch that at Athens, at least, not every boy went to the Palaistra -- the great orator Demosthenes, for example, whom we've talked about, didn't -- and suffered as a result:
He could make a great speech ; but when it came to Fighting in Battle -- he was a coward.
In the Aristonicus anecdote, what counted with Alexander -- and Arrian -- was Aristonicus' WILLINGNESS to Fight.
And, particularly among the archaic and classical Greeks, of whom very few Men, other than the Spartans, were full-time soldiers, Willingness was what was needed and expected when it came to hoplite battle.
Because it's crucial for you to understand that in the ancient world, and UNLIKE our contemporary world, Manhood had NOTHING to do with sex.
Except : that once in a while, the Greeks use the most common term for Manhood -- andreia -- to mean the male genitals.
But -- the vast majority of time, Manhood refers to the Man's Willingness to Fight.
And in particular, though the word for Manhood may, once in a very great while, refer to the male genitals, Manhood itself has nothing to do with sexual acts, or the gender -- that is, male or female -- of the male's sexual partner.
In that sense, and unlike in our own society, in which Manhood and being a "real man" is continually linked to something called "heterosexuality" -- that is, as one of our straight-identified guys puts it, fucking warm wet pussy --
So, in the little anecdote from Arrian about Aristonicus the harp-player, Arrian doesn't say that Aristonicus had always been into males sexually, but one night he fucked a woman, and then he died, and so he died like a man.
And if you've been clicking on the little underlined links to Greek words, such as this one -- orthos -- you know that they take you to the word's definition in our Lexicon's Word List, which in the case of orthos means straight, standing erect, morally upright, righteous.
When the Greek word for Manhood refers to the male genitals, which again, is rarely, it refers to them as the source of Man's Willingness to Fight.
Aristonicus is shown with his spear -- which is phallic -- advanced and ready -- to Fight.
Alexander wanted Aristonicus to be remembered as a harpist -- who Fought and Died -- a Man.
And again, and I cannot emphasize this too strongly, it's critical, in reading this Lexicon, which is about Manhood, that you understand that the Manhood in question is Fighting Manhood.
So -- this is a pic, not of the Aristonicus statue, which no longer exists, but of a statue of Leonidas of Sparta -- and it gives you some idea of what such statues looked like:
Now -- just one more thing about the harp-player, Aristonicus, and how he "was killed -- having fought however not like a harpist, but like a man."
And de Selincourt's "having fought however not like a harpist, but like a man" is fine.
But, what Arrian is really saying is that by Fighting, Aristonicus left the state of "harp-player," and came into a new state of being -- that of Man.
So -- here's another anecdote from Arrian which bears very directly on this definition of Manhood as Willingness to Fight -- and Ability to Fight.
Lucius Flavius Arrianus, a Greek by birth, was a distinguished Imperial Roman governor and military commander -- he commanded an entire border province for Rome and in that capacity repulsed a barbarian invasion; in addition, he was a Stoic who as a young man studied with Epictetus of Nicopolis and preserved his famous teacher's words, which he took down in shorthand, in eight volumes, known as the Discourses, and then summarized those teachings in an Encheiridion or Handbook -- and it was almost certainly Epictetus who imparted to Arrian the high moral standards through which he views Alexander.
In addition to his other government and military service, Arrian held two supreme magestracies, one at the political center of his world, the other at the intellectual: He was suffect consul at Rome in 129 or 130 AD, and then held the archonship at Athens in 145-6, afterwards becoming a member of the Areopagus -- Αρειος παγος -- the ancient Athenian council, which met on Ares' hill.
Arrian was also a prolific writer about military matters, writing several books on tactics, and another on the emperor Trajan's Parthian campaigns. He also wrote about his own circumnavigation of the Black Sea, as well as a book based on Alexander's Cretan admiral Nearchus' voyage to India, wrote a history of his home kingdom of Bithynia, a history of Events After Alexander, now mostly lost, several biographies, and even a book on hunting -- and Arrian wrote his Anabasis Alexandrou, today usually translated as "The Campaigns of Alexander," and which he considered his most important book, the labor of a lifetime, sometime between 120 and 150 AD.
So Arrian was and remains an impressive Man, well-known in his own lifetime, with a remarkably broad range of interests -- philosophical, historical, political, military -- and literary.
Further, Arrian was a Man who lived in a Masculinist culture, and whose values, from his love of the Martial Life -- the Life of Ares -- to his acceptance and appreciation of Male Eros -- that is, Romantic Passion between Men -- to his embrace of Stoicism and its emphasis on Sophrosyne -- self-control -- were at the heart of the Fighting Manhood which was core to that culture.
Because he had available to him, and relied upon, the testimony, in the form of memoirs, of numerous eyewitnesses to Alexander's life and campaigns.
And because he was a formidable military man in his own right, which made him an excellent judge of Alexander's tactics, leadership, and character -- and also a friend of the Roman emperor Hadrian --
In short, Arrian was uniquely placed to write the definitive history of Alexander and his achievements --
So -- here's another anecdote from Arrian which bears very directly on the Greek definition of Manhood as Willingness to Fight -- and Ability to Fight.
Because further on in the expedition, Alexander was almost killed when he led the charge into an enemy city.
His officers were concerned, and asked him to take more regard of his personal safety.
Phokion's son, a male "of no worth," heard "Theodorus the Atheist discourse in the Lyceum as follows: 'If there is no disgrace in ransoming a man beloved, the same is true of a woman loved; what is true of a comrade, is true also of a mistress.' "
The point Plutarch's making is that only a male "of no worth," like Phokion's son, would be stupid enough to confuse a Manly Lover, a Warrior Lover, whose Love is Freely Given -- with a female prostitute -- whose services are paid for.
That's bad; and a clear marker of moral inferiority and therefore lack of manliness.
But the larger point I'm making is that in archaic and classical Greece, male-male was inextricably bound up with Fighting, both in sport and at arms, and therefore with Martial Values.
Love between Men was, as I've said, Manly, Martial, and Monogamous -- Phallic, Faithful, and Heroic.
And only a hedonistic and atheistic male like Phokion's son would confuse the True Love of Man for Man -- with lust for a prostitute.
So -- if you feminize a Manly companion -- a hetairos -- he becomes a hetaira -- a prostitute.
Which is what we've seen in our contemporary world, in which effeminized males are promiscuous at a level rivaling that of prostitutes.
So -- Among the Greeks, Male-Male Love was inextricably linked to Martial Values and Manliness -- and considered the equal of, or slightly superior to, male-female love.
But again, whether the love or affection or just plain sex was male-male or male-female -- didn't matter to the Greeks.
And there are a great many anecdotes like the one about Phokion's son -- in Plutarch's enormous body of work.
What's at issue here is not the gender of the love-object or subject-of-desire, whether male prostitute or mercenary's wife -- but the behavior of those in love or lust.
In the same paragraph, and thus linked together, Plutarch tells us that Alexander, who was the Lover of Hephaestion, his "philtatos hetairos" -- most beloved companion -- "whom," Arrian says, "he loved better than all the world," and whom, Alexander himself said, "I valued more than my life" ; and whom he'd been with since childhood -- "severely rebuked" someone who offered to buy him a pretty boy ; and ordered put to death two soldiers who'd raped other soldiers' wives.
In both cases what's in question is sexual behavior, and because it's bad behavior, Alexander punishes those involved.
And again, whether the love or affection or just plain sex was male-male or male-female -- didn't matter to the Greeks.
Now -- is Plutarch the only ancient Greek author to write in these gender-neutral terms?
Jowett's translation -- which is earlier than Shorey's -- is actually, I think, a bit better, at least for our purposes, in the crucial passage:
The promise of a "kiss" makes the Warrior more eager to win the "prize of valour" -- which is, by the way, aristeia -- "whether his love be youth or maiden."
Here's part of a really great speech Alexander made to his Men -- on one such occasion:
And we can well imagine that he, being Greek, and accustomed and proud of being Nude among his Men, did indeed strip and point out each wound.
Which means, that scars earned in battle were "symbolic representations" -- the word in Greek is eikon -- εικων -- of -- MANHOOD.
Scars earned in battle were symbolic representations -- ikons -- of Manhood.
Fighting Manhood.
Which is Excellence, and Valour, and Virtue, and Worth, and Goodness.
Again, Manhood is symbolized by the scars earned in Battle.
Again, MANHOOD is FIGHTING MANHOOD.




Alexander, on horseback, on the left ; and Hephaestion, on horseback, on the right -- battle the Persians.
Again -- MANHOOD, for the Greeks, is a function of the Ability and Willingness to FIGHT.
So:
Having told us that Alexander bore his scars openly, Plutarch then has his hero say:
[M]y body bears many a token of an opposing Fortune and no ally of mine. First, among the Illyrians, my head was wounded by a stone and my neck by a cudgel. Then at the Granicus my head was cut open by an enemy's dagger, at Issus my thigh was pierced by the sword. Next at Gaza my ankle was wounded by an arrow, my shoulder was dislocated, and I whirled heavily round and round. Then at Maracandaf the bone of my leg was split open by an arrow. There awaited me towards the last also the buffetings I received among the Indians and the violence of famines. Among the Aspasians my shoulder was wounded by an arrow, and among the Gandridae my leg. Among the Mallians, the shaft of an arrow sank deep into my breast and buried its steel; and I was struck in the neck by a cudgel, when the scaling-ladders which we had moved up to the walls were battered down ; and Fortune cooped me up alone, favouring ignoble barbarians and not illustrious adversaries with such an exploit. But if Ptolemy had not held his shield above me, and Limnaeus taking his stand before me had not fallen, a target for ten thousand shafts, and if my Macedonians had not overthrown the wall with spirit and main force, then that nameless village in a foreign land must needs have become the tomb of Alexander.
And that last incident is what touched off Alexander's officers' complaints, and the old Boiotian soldier's response -- Fighting is a Man's job, my lord.
Plutarch adds this:
Moreover, there were the trials of the campaign itself : storms, droughts, deep rivers, the heights of the Birdless Rock, the monstrous shapes of savage beasts, an uncivilized manner of life, the constant succession of petty kings and their repeated treachery. Then there were also the difficulties before his expedition: Greece was still gasping over Philip's wars ; Thebes, staggering to her feet after her fall, was shaking the dust of Chaeroneia from her arms, and Athens was stretching forth a helping hand to join with Thebes. All Macedonia was festering with revolt and looking toward Amyntas and the children of Aeropus; the Illyrians were again rebelling, and trouble with the Scythians was impending for their Macedonian neighbours, who were in the throes of political change ; Persian gold flowed freely through the hands of the popular leaders everywhere, and helped to rouse the Peloponnesus [against Alexander]; Philip's treasuries were bare of money, and in addition there was owing a loan of two hundred talents (as Onesicritus records). In such poverty and in circumstances fraught with such uncertainty, a stripling, scarcely older than a boy, had the daring to hope for Babylon and Susa ; nay more, to conceive the project of dominion over all the world, relying only on the thirty thousand foot and four thousand cavalry which were his ; for, according to Aristobulus, that was the full extent of their number. But King Ptolemy puts them at thirty thousand foot and five thousand horse, Anaximenes at forty-three thousand foot, fifty-five hundred horse. And the great and glorious war-chest which Fortune had ready for him was only seventy talents, as Aristobulus says, though Duris says it was provision for only thirty days.
Arrian -- who, as I said earlier, lived around the time of the Emperor Hadrian -- that is, in the second century AD, and was a formidable military Man in his own right -- although Greek, he commanded an entire border province of the Roman Empire and thwarted a barbarian invasion of that province -- Arrian, who as a soldier knew something about leading Men into battle and as a Stoic something about Manhood, Goodness, Virtue, Valour, and Worth -- ends his book with this encomium to Alexander:



Alexander died in the 114th Olympiad, in the archonship of Hegesias at Athens. He lived, as Aristobulus tells us, thirty-two years and eight months, and reigned twelve years and eight months. He had great personal beauty, invincible power of endurance, and a keen intellect; he was brave and adventurous, strict in the observance of his religious duties, and hungry for fame. Most temperate in the pleasures of the body, his passion was for glory only, and in that he was insatiable. He had an uncanny instinct for the right course in a difficult and complex situation, and was most happy in his deductions from observed facts. In arming and equipping troops, and in his military dispositions, he was always masterly. Noble indeed was his power of inspiring his men, of filling them with confidence, and, in the moment of danger, of sweeping away their fear by the spectacle of his own fearlessness. When risks had to be taken, he took them with the utmost boldness, and his ability to seize the moment for a swift blow, before his enemy had any idea of what was coming, was beyond praise. No cheat or liar ever caught him off his guard, and both his word and his bond were inviolable. Spending but little on his own pleasures, he poured out his money without stint for the benefit of his friends.

~Arrian, The Campaigns of Alexander, translated by Aubrey de Selincourt
That was Alexander.
We'll come back to him in the body of the Lexicon.
---
Now, as I did in Death of an AIDS Activist, I've made certain statements in this introduction / prolegomena which are at variance with what various dominant cultures -- in this case, primarily analism and heterosexism -- teach.
And which therefore govern your lives.
And I've backed up what I've said with citations, and wherever possible, with links -- so that you can read for yourself -- what ancient authors, as well as scholars of the last three centuries, have said.
And that presents you, the reader, with a quandary.
Because, if what I'm saying is true -- and it is -- then you're being lied to -- about matters which are very dear to your heart.
Your Manly Heart.
And you need to do something about that.
But you don't want to.
You're scared.
Afraid.
To do what it would take -- to make your life better.
That's your dilemma:
Something needs to be done, but you're afraid -- to do it.
You're cowards.
I mean that literally.
Here's what one young person who thinks of himself as "bi," said to me via email:
I'm too scared to come out. I love women too and I want to be a father and raise kids one day but my heart seems torn between this drive in me to he with another man. It's a thrill. I want to have that special guy to be my best friend and male lover but still be faithful to my future wife. I don't think that is possible because in marriage your supposed to be faithful to one person and only that person right?
"I'm too scared to come out."
He's a coward.
He's afraid to openly and honestly tell the world what he feels.
Even though there's nothing wrong with it -- and everything right.
Nevertheless, he's afraid.
I'll take up more of The Case of the Cowardly Cock-Rubber -- in a forthcoming post.
But I can tell you now that I was going to hire Perry Mason to investigate the case, but Mr Mason, in the guise of the very wealthy and very closeted actor who portrayed him, got fucked up the ass and died of AIDS.
I wonder if even one of you could tell me what lessons there are to be learned from that actor's life and death -- and how they apply to our Cowardly Cock-Rubber.
I wonder.
Because both you -- and he -- need to look at the lives of ancient Men -- and learn from them.
And from the lives of your contemporaries.
I said in the Preface that the "gay" community has now achieved virtually all of its goals.
How did "gay" people do that?
Primarily by coming out.
From the 1970s forward, you see, "gay" activists like myself -- and I was a gay-identified activist for close to 40 years -- maintained that if all same-sexers, as Gore Vidal put it, would simply come out, the weight of prejudice would not stand.
Why?
Because same-sex is a natural part of human behavior, and is therefore ubiquitous.
It's everywhere.
Which meant that once people did begin coming out in large numbers, Americans realized that not only might they have "gay" friends and "gay" fellow workers, but that they had "gay" family members.
And it's one thing to support discrimination against strangers -- usually, in the US, darker-skinned strangers.
But it's quite another to support discrimination against a member of your own family -- your mother, your sister, your aunt, your cousin, your nephew, your grandchild, etc.
No one -- other than the most radical of the religious right -- will do that.
That's the lesson of the last 40 years.
And yet, you -- the "men" of the Alliance -- resolutely REFUSE to come out.
Because you're cowards -- and I must say, IDIOTS.
Just incredibly STUPID.
"I'm too scared to come out."
Why?
The analists aren't -- why are you?
Because you're married and you're pussy-whipped?
What a puny excuse.
If your marriage is such that you're afraid of your wife -- wouldn't you be better off -- in a different marriage?
Or because you think there's a "stigma" attached to being "gay?"
First off, you're not "gay."
You're a Man.
What defines you is not some imaginary category of "sexual orientation," but your Manhood, Manliness, and Manly Spirit --
if you can ever find them.
Which you CANNOT and WILL NOT living a lie.
Moreover, here's a News Flash for ya: We now have six openly "gay," "lesbian," or "bi" -- Members of Congress.
We now have a de facto "LGBT" seat on the Supreme Court.
Even the Bush admin had a multitude of openly "gay" or barely closeted officials -- and the Obama admin of course has far more.
And that's just on the national level.
And there's now going to be an explosion in the numbers of elected officials, athletes, etc -- who "come out."
But -- thanks to you and your UN-manly cowardice -- the males among them will all be -- or be perceived to be -- analists.
Sodomites.
"Gay."
And won't that be a big boost for you?
NO.
It will make your life even worse than it is now.
You need to do something, and ONLY YOU can do it.
Because:
The liberation of any oppressed group -- can only be the work of the group itself.
You need to come out -- not as a "gay" or a "straight" or any other ridiculous label --
But as a Man.
And, as part of that process, and specifically to understand what a Man actually is --
Not what our society says a "man" is but what a Man actually is:
YOU NEED TO LOOK AT THE LIVES OF ANCIENT MEN -- AND LEARN FROM THEM.
So, and to return to our Lexicon and its Prolegomena:
First of all, I've shown you that among the ancient Greeks, Manhood was defined as the Man's Fighting Spirit -- his Willingness to Fight.
And that Ability to Fight -- mattered too.
So Manhood was inextricably linked -- to Fighting.
While in our own society, it's linked -- to fucking, and particularly to fucking women.
What's the difference?
CULTURE.
Ancient Greek culture said one thing -- our culture says another.
There are reasons for that -- but ultimately, it's arbitrary.
That doesn't mean, however, that neither culture is right.
In this case, the Greeks are right -- and our society, wrong.
Dead wrong.
That's first off.
Here's second off:
In ancient Greece, virtually all Men were what our culture calls "bisexual."
The Greeks didn't have that word or a word like it -- to them, to love both "male and female," both "youth and maiden" -- was normal -- normative.
Our society, by contrast, claims that all males are either "gay, straight, or lying."
Our society attempts to put ALL males into one of two boxes -- "gay" or "straight."
And the "gay" box is supposed to be quite small -- popular sex advice columnist Dan Savage has said that it's "tiny and stable."
In other words, in our society, just a very few males engage, we're told, in same-sex.
Whereas in ancient Greece -- All Men engaged in same-sex.
What's the difference?
CULTURE.
Ancient Greek culture was "gender-neutral," which means, in practice, and as you've just seen, INDIFFERENT to the gender -- that is, male or female, youth or maiden -- of a Man's love-object.
Our culture is OBSESSED with the gender -- male or female -- of a male's love-object.
Those two facts, which we may pose as questions:
How is Manhood defined? and
Gender of Love Object -- Important or Irrelevant?
Have an ENORMOUS IMPACT on your lives.
Because:
When a society defines Manhood not as Willingness to Fight, but as willingness to fuck, and in particular to fuck warm wet pussy, it pushes ALL MALES, and regardless of the gender of their sexual partner, into penetrative sex, including anal penetration.
Translation: One reason that gay-identified males are so eager to engage in anal penetration is that they are mimicking the majority, "heterosexual" and heterosexualized, culture.
Which requires penetration.
And that's also why they're so dismissive of any Man who refuses to do anal.
Nevermind that penetration makes sense only if what's being penetrated is a vagina -- and what you want to do -- is make a baby.
Then penetration makes sense.
Penetrating anuses -- makes no sense.
Unless your purpose is to mimic, albeit palely and weakly, the majority culture.
Because, as I pointed out in Death of an AIDS Activist, just as a liver isn't a heart or a lung a spleen, an anus is not a vagina.
If you don't understand that point, please read or re-read Death of an AIDS Activist.
Is it a good idea, by the way, for a minority to mimic a majority?
No.
It's a terrible idea, and it's always destructive.
And in America, these days, many minority members now understand that.
Most Jews no longer have their noses straightened, and most Blacks no longer have their hair straightened -- because they understand that it's self-oppressive -- to do that.
But the "gay male" community is still busily aping the "heterosexual" community in the matter of anal penetration, even though anal has been demonstrated, time and time again, to be the single most dangerous "sex" act any two people can perform.
Question:
When a minority apes or mimics or otherwise copies a majority, which changes -- the minority or the majority?
Let's find out by asking a couple more questions:
How many secularized American Jews celebrate Christmas?
Answer: A great many.
And how many American Christians celebrate Chanukah?
Answer: None.
So -- How Manhood is defined matters -- and, if you're a Man who doesn't and will not do anal -- it matters for you a very great deal.
As does the question of the gender of your sexual partner -- important or irrelevant?
Again, the ancient Greeks were indifferent to gender; our culture is obsessed with it.
And it is a CULTURAL difference.
It has NOTHING to do with biology or genetics.
It is CULTURAL.
---


Now -- let me give you an example -- from Sparta -- of how a culture, in this case an ancient Greek culture -- which is indifferent to gender, but which separates its boys and men from its girls and women in order to *fully* develop the males' Fighting Manhood -- then has to deal with issues of sexual desire.

The excerpts are from Plutarch's Life of Lycurgus -- the translator is Richard Talbert, whose book, which I strongly recommend -- get rid of the cable TV and start reading, guys -- is on the Heroes Reading List.
Lycurgus [the Spartan law-giver] did not put Spartiate children in the care of any tutors who had been bought or hired. Neither was it permissible for each father to bring up and educate his son in the way he chose.

Instead, as soon as boys reached the age of seven, Lycurgus took charge of them all himself and distributed them into Troops [the Spartan term was "herds"]: here he accustomed them to live together and be brought up together, playing and learning as a group. The captaincy of the troop was conferred upon the boy who displayed the soundest judgement and the best fighting spirit. The others kept their eyes on him, responded to his instructions, and endured their punishments from him, so that altogether this training served as a practice in learning ready obedience. Moreover as they exercised boys were constantly watched by their elders, who were always spurring them on to fight and contend with one another: in this their chief object was to get to know each boy's character, in particular how bold he was, and how far he was likely to stand his ground in combat.

The boys learned to read and write no more than was necessary. Otherwise their whole education was aimed at developing smart obedience, perseverance under stress, and victory in battle. So as they grew older they intensified their physical training, and got into the habit of cropping their hair, going barefoot, and exercising naked. From the age of twelve they never wore a tunic, and were given only one cloak a year. Their bodies were rough, and knew nothing of baths or oiling: only on a few days in the year did they experience such delights. They slept together by Squadron and Troop on mattresses which they made up for themselves from the tips of reeds growing along the River Eurotas, broken off by hand without the help of any iron blade. During winter they added the so-called thistledown and mixed it into the mattresses, since it was a substance thought to give out warmth.

By this age the boys came to be courted by lovers from among the respectable young men. The older men, too, showed even more interest, visiting the gymnasia frequently and being present when the boys fought and joked with one another.

This was not just idle interest: instead there was a sense in which everyone regarded himself as father, tutor and commander of each boy. As a result everywhere, on all occasions, there would be somebody to reprimand and punish the boy who slipped up. In addition a Trainer-in-Chief was appointed from among the men with outstanding qualities; they in turn chose as leader for each Troop the one out of the so-called Eirens who had the most discretion and fighting spirit. Those who have proceeded two years beyond the boys' class are termed Eirens, and the oldest boys Melleirens ('prospective Eirens').

So such an Eiren, twenty years of age, commands those under him in his Troop's fights . . .

[emphases mine]

~Life of Lycurgus, 15, 16, 17, translated by Talbert.
So the first thing we see is that the Spartans gender-segregated their kids.
The girls were raised at home -- the boys were separated from their mothers and raised in all-male troops which were in charge of older boys and ultimately, Men.
The boys did everything together, including sleeping together.
By that I don't mean sex -- I mean that they slept in all-male groups, and in the winter especially, most likely in body piles -- for warmth, if nothing else.
Further, the emphasis in this all-male upbringing and training -- was Fighting.
Fighting both individually -- one-on-one -- and in groups:
The captaincy of the troop was conferred upon the boy who displayed the soundest judgement and the best fighting spirit.
as they exercised boys were constantly watched by their elders, who were always spurring them on to fight and contend with one another: in this their chief object was to get to know each boy's character, in particular how bold he was, and how far he was likely to stand his ground in combat.
The older men, too, showed even more interest, visiting the gymnasia frequently and being present when the boys fought and joked with one another.
an Eiren, twenty years of age, commands those under him in his Troop's fights
There was a LOT of Fighting, and, again, it was part of the institution, part of the structure, of the agogé.
In the agogé, boys were encouraged -- and that's putting it mildly -- to develop and display Aggression -- that is, FIGHTING MANHOOD.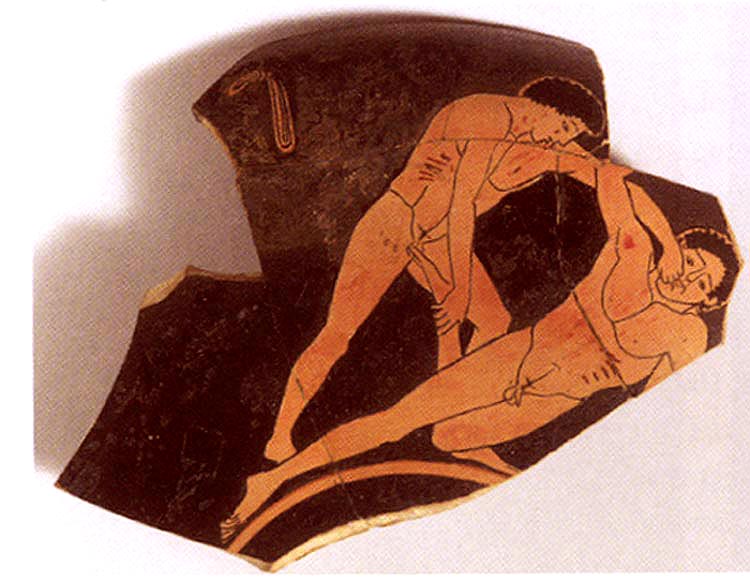 And as you'll see in the Lexicon, the purpose of all that Fighting was to enable the boys to UN-forget and fully develop -- their God-given and innate MANHOOD.
Now, if you read the text closely, you also saw that there was an emphasis on obedience.
So that one classicist has said that the Spartan Virtues were aggression and blind obedience.
I'll discuss the question of obedience, blind or otherwise, in the text of the Lexicon, and then at further length in a forthcoming post.
The critical point here is that the boys were put into gender-segregated groups -- ALL-MALE GROUPS -- at the age of seven, and stayed in those groups -- till at least the age of thirty.
In which the emphasis was upon Aggression -- Fighting Spirit -- Fighting MANHOOD.
The agogé -- which, says classicist Werner Jaeger, the other Greeks observed "with astonishment and admiration," was basically, a Manhood Machine.
Producing, faithfully and flawlessly, generation after generation, Manly Men.
Fighting Men.
And that was something the other Greeks recognized -- and ADMIRED:
As Jaeger
"The rest of the Greeks saw with astonishment and admiration how every institution in Sparta served the same purpose -- to make Spartan citizens the best soldiers in the world."
Such an education, says Jaeger, "was not only military. It was political and moral in the broadest sense . . ."
Because, and what's more -- the Spartans INSTITUTIONALIZED Male-Male Love -- Eros, which is Romantic Passion.
So -- the boys were raised in gender-segregated, all-male groups in which the two most important components of Manhood -- in my view *and* that of the Greeks -- were consciously and purposefully inculcated -- Male Aggression, and Male Love.
For, as a result, the Spartans soon found, the boys grew up -- having very little sexual interest in girls and women.
If, as the Spartans did, you put boys -- and Men -- into small, all-male groups, encourage and teach them to aggress, and give them Male Lovers --
I prefer Talbert, but Perrin is fine too, except that sometimes he bowdlerizes -- changes the text to make it more "family-friendly."
Plutarch says specifically that the girls appeared stripped -- the Greek word is apodusis, which means stripped or undressed; and Plutarch in using that word, is making a play upon, and having referred to athletic contests -- the apoduterion -- the undressing room at the Palaistra, from which the boys and Men emerged -- nude.
So -- what you can see -- I hope -- a blind man could see it -- but many of you are way beyond blind --
In any case, what you can see is that the Spartans had to induce their young Men -- to have intercourse with Women.
They paraded the girls naked, and had them compete naked, before the "young men," so as to create "a compulsion not of an intellectual type, but (as Plato says) a sexual one."
They dressed the bride to look like a man, or perhaps, a boy, putting her in a man's cloak and shoes, and shaving her head to the scalp -- which is how the boys wore their hair in the agogé.
The groom spent only a short time with her -- long enough for some warm wet pussy, but not long enough to interrupt his accustomed routine of living and sleeping with other young Men:
"It was not just for a short period that young men would do this, but for long enough that some might even have children before they saw their own wives in daylight."
That was the carrot, Part II -- the newly-married male, while having opportunities to fuck his wife, spent most of his time as he'd always spent it -- in gender-segregated, all-Male, environments.
Those males who refused to marry were publically humiliated and denied access -- to the Festival of the Naked Youths -- !
What this should tell you, then, is -- that despite what our society says, and what the "gay male" community in particular believes --
It means that, properly done, and done culturally, as part of a unified and very carefully thought-through culture -- you can raise boys so that as Men -- they prefer -- other Men.
Once again, GENDER -- that being, in the case of Males, the Male's inner feeling of Manliness -- is biological -- and spiritual.
There are NO convincing historical grounds for the idea that "gay" and "straight" constitute, in effect, two different species.
If there are "no convincing historical grounds," as Horton says, and I've just shown you in the case of Sparta, for "gay" and "straight" being immutable and eternal categories -- where does that particular idea of "gay" come from?
It's easier to argue for "gay" rights if you can make it appear that "gay" is similar to -- having "black" skin.
But what Horton says is correct -- there are no convincing historical grounds for that view.
It was made into holy writ by the "gay" movement because it was POLITICALLY EXPEDIENT.
While in the same article, sociologist Eric Anderson of the University of Bath in England says
Because, if you don't believe me, you have to refute not just me -- Bill Weintraub -- but Richard Horton and Jonathan Katz and Joan Roughgarden and Eric Anderson too.
So now you've got not only to refute Bill, but Richard and Jonathan and Joan and Eric and John Ibson -- and the many scholars, such as Michel Foucault, he cites -- too.
Some of it is biological -- for example, I have a male dog, and while he's very handsome, and aggressive, and loving too, I have no desire to have sex with him -- because we're not of the same species.
But, between and among human beings, and as you just saw in the case of Sparta, culture has a great deal to say about who we find attractive, who we go to bed with, and what we do once we are in bed.
And it's my position, which is strongly supported by the facts, facts which you just read -- that sexual desire and the expression of that desire is strongly shaped -- in effect, governed -- by culture.
While gender -- again, in the case of males, the male's inner feeling of being a Man -- is biological and spiritual.
"Same-sex" or "male-male" would be a far better and far more accurate descriptor.
Dover's point is that the Athenians -- and Spartans and all the other Greeks -- were "fond of male-male relations" -- because their fathers and grandfathers were.
Once again, because in my experience, this bears repeating and repeating and repeating:
My work is about culture and cultural tyrannies in the area of sex and sexual desire.
If butt-fucking is a *cultural* tyranny -- which it clearly is -- then buttfucking isn't biological -- it's cultural.
In some cultures Men are taught to desire "heavy" Women ; in others, like ours, the cultural ideal of Woman is thin and boyish.
In today's "gay" culture, and since 1975, the anus has been declared the ultimate object of sexual desire.
But as gay-identified writers like Chauncy and Rotello have pointed out, prior to the 1970s, oral and various forms of mutual masturbation were the favored forms of "gay" sex -- and anal was a denigrated and fringe activity.
While gender -- is biological -- both outwardly, in terms of the sex organs and secondary sexual characteristics -- and inwardly -- in terms of the Man's inner feeling -- of being a Man.
But True Gender -- what the trannies call "core gender identity" and which is "core" because it's experienced as "inner" -- is biological.
Nevertheless, there are cultural elements to the way certain elements of gender -- are expressed.
So -- during her/his transition, Chastity/Chaz told the press that she/he felt "very traditionally male."
Anthropologists and others who study gender call that sort of "traditional masculinity" -- "social" or "cultural masculinity."
In Saudi Arabia, the king and male members of his family are expected to wear flowing robes.
In Great Britain, the prince-consort and male members of the royal family -- Prince Philip, Prince Charles, Princes William and Harry, etc -- are expected to wear suits and ties.
But -- in both countries, the males of the royal family are expected to serve in the military -- that is, to express Aggressive, Warrior, Manhood.
For, as my foreign friend puts it, "Fighting Spirit is the Hallmark of Masculinity."
As I said, earlier, I have a male dog, who like most male dogs in the US, has been neutered.
Yet he's FAR MORE AGGRESSIVE than any female dog I've ever owned, including my last, who was roundly considered "an aggressive female dog."
But WAY LESS AGGRESSIVE -- than her male successor -- who, by the way, is of the same breed.
Gender -- is biological -- both outwardly, in terms of the sex organs and secondary sexual characteristics -- and inwardly -- in terms of the Man's inner feeling -- of being a Man.