http://www.nytimes.com/2008/11/18/arts/design/18hartigan.html?ref=obituaries "Now as before it is the vulgar and the vital and the possibility of its transformation into the beautiful which continues to challenge and fascinate me," she told the reference work "World Artists: 1950-1980." "Or perhaps the subject of my art is like the definition of humor — emotional pain remembered in tranquillity."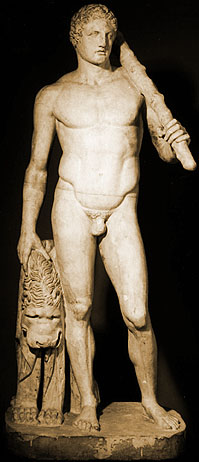 http://www.nytimes.com/2008/11/23/business/23citi.html?th&emc=th Citigroup's stock has plummeted to its lowest price in more than a decade, closing Friday at $3.77. At that price the company is worth just $20.5 billion, down from $244 billion two years ago. Waves of layoffs have accompanied that slide, with about 75,000 jobs already gone or set to disappear from a work force that numbered about 375,000 a year ago. http://www.nytimes.com/2008/11/23/opinion/23friedman.html?th&emc=th This is the real "Code Red." As one banker remarked to me: "We finally found the W.M.D." They were buried in our own backyard — subprime mortgages and all the derivatives attached to them.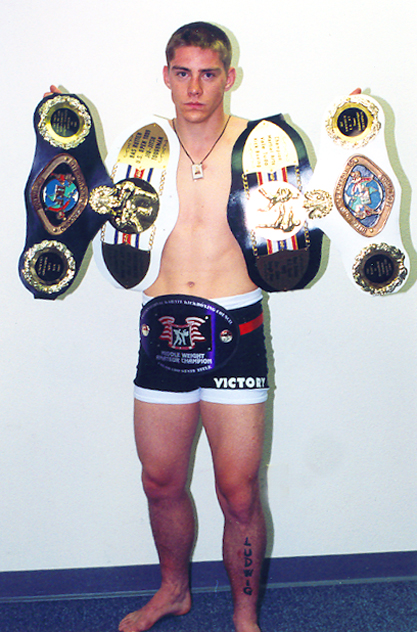 ========================================== Now, some of what I'm about to say may sound simplistic to you. But I remind you that Sparta and the Spartan system was admired by some of the greatest minds of antiquity, which is to say of all time and which the world has ever known, among them Socrates, Plato, and Plutarch. It's because of those men, and their admiration for Sparta, that we know as much as we do. So please bear with me as I present what we know -- and how it played out in history.
The Spartan constitution was admirably designed to promote peace and virtue and harmony within the bounds of the state. But the Spartans had added to it an empire and a sovereignty won by force, something which Lycurgus would have regarded as quite superfluous to the well-being of a city, and it was for this reason that they lost their supremacy.
=================================
nudity in Greek art is, more often than not, a depiction of reality Sekunda, The Spartan Army ======================================
Gymnopaidiai -- Festival of the Naked Youths -- their most important holiday or festival ; and you can focus on the naked part or you can focus on the youth part -- if the latter, then you understand that their kids really mattered to them ============================ "Moody's was like a good watchdog that had regarded the financial markets as its turf and barked and growled when anybody it didn't know came near it. But in the '90s, that watchdog got muzzled and gelded. It was told to turn into a lapdog." - THOMAS J. MCGUIRE, a former director of corporate development at the company, on changes that may have led to inflated ratings of mortgage securities. http://www.nytimes.com/2008/12/07/business/07rating.html?th&emc=th ============================================== http://www.iht.com/articles/2008/12/07/opinion/edcohen.php Roger Cohen: Paris-Cuba By Roger Cohen Published: December 7, 2008 Such empty spaces, away from the assault of marketing, beyond every form of message (e-mail, text, twitter), erode in the modern world, to the point that silence provokes a why-am-I-not-in-demand anxiety. Technology induces ever more subtle forms of addiction, to products, but also to agitation itself. The global mall reproduces itself, its bright and air-conditioned sterility extinguishing every distinctive germ. ========================= http://enews.earthlink.net/article/top?guid=20081116/491fa8d0_3ca6_1552620081116815909011 Capt. Leonard Grill, a 20-year veteran of the Riverside County Fire Department, watched for flaring embers in a Yorba Linda neighborhood late Saturday. "It's gotten worse and worse every year. I can't keep track of them anymore," Grill said of the region's wildfires. "These used to be the out-of-the-ordinary fires, once-in-a-career kind of fires. Now they're every year." =================================== http://www.iht.com/articles/2008/12/08/america/hawaii.php Island's battles over land use halt development By Dan Barry Published: December 8, 2008 -->At stake: "pono" - the Hawaiian concept for what is honorable, righteous, in balance. MAUNALOA, Hawaii: Scattered along the western stretch of the island of Molokai are the deserted structures of a vanquished people. Farther on, past the swimming pool now filled with sand, are the skeletal frames of what were known as tentalows. People once came from far away, paying handsomely too, for the chance to sleep behind canvas drapes, the Pacific within sight, the night stars almost within reach. These structures stand as eerie remnants of a years-long battle waged over the future of this island, an oasis of 7,500 with no traffic lights and no buildings taller than a coconut tree; with the state's highest unemployment and highest percentage of Native Hawaiians; with a sweet way of saying you are welcome to visit as long as you understand its ways. On one side of the fight were the off-island owners of Molokai Ranch, a sprawl of property covering a third of Molokai's 260 square miles, or 670 square kilometers. They worked for years with some community members on a broad development proposal that included lots of jobs, the reopening of a closed hotel, the unheard-of donation of 26,000 acres, or 10,520 hectares, for conservation. And this: The building of 200 luxury homes along a gorgeous oceanfront spot called La'au Point. The development, the owners said, was necessary to help pay for parts of the tantalizing plan. A 2006 marketing report described how "an unspoiled oceanfront" would attract people of means: "For the ocean-view lots, this would generally require a net worth of at least $1 million, and for the oceanfront properties the market for real estate at La'au Point comes from the premium pentamillionaire ($5 million) market and above." Opposing the plan was a majority of the Molokai community, including many who took pride in the island's long resistance to anything that might somehow make it less Hawaiian. The La'au Point proposal gave breath to their rallying cry of "Keep Molokai Molokai." The property is sacred, they said, its crabs and limpets vital to their subsistence. It should be shared by the people who live on Molokai, not owned by people who do not. "We're just caretakers," said Walter Ritte, 64, a veteran warrior against anything he thinks might despoil Molokai. "That comes from our culture. The resources come first, and man comes second." So began the Battle of Molokai Ranch. At stake: "pono" - the Hawaiian concept for what is honorable, righteous, in balance. The matter of balance has loomed over Molokai Ranch ever since some businessmen bought the property more than a century ago. Over the years, local people needed the jobs created by the various uses of the property - to raise livestock, grow crops, even serve as a wildlife park - but they also resented the dominance of the ranch over land and culture. Owners came and went, parcels were bought and sold, development battles were won and lost. In the 1970s, protesters managed to thwart a plan to develop ranch land into a Honolulu suburb, with airport. But in the 1990s they failed to block the ranch's razing of historic homes in this old pineapple plantation town of Maunaloa, as well as the rising of the Molokai Ranch Lodge, a 22-room luxury hotel featuring the island's only elevator. The ranch's current owners, Molokai Properties, a subsidiary of GuocoLeisure of Singapore, set out to improve its image. When dozens of jobs were lost in 2001 with the closing of the Kaluakoi Hotel, a few miles away, they bought the property, reopened the adjacent golf course and intimated that they would someday do the same with the hotel. They also invited the community to help shape a development plan for the ranch property, which was hemorrhaging millions of dollars a year. Ultimately, the "Community Based Master Land Use Plan," with its sly appropriation of "community," was developed, earning the endorsement of several elected officials, including the governor of Hawaii, Linda Lingle. Thousands of acres of land to be donated. The resurrection of the Kaluakoi Hotel. The continuing operation of the Molokai Ranch Lodge, the golf course and other businesses. And that 200-lot luxury subdivision on 500 acres down at La'au Point. "It wasn't going to be perfect; we all knew that," said John Sabas, 61, who grew up on Molokai and worked for a while as the ranch's communications manager. "But it would set us on a path of providing a sustainable future for the island." Others, though, chose the path of resistance. Some distrusted yet more outsiders promising a better future. Others feared disturbance of the holy compact between the land and its people. Asserting their own claim to the word "community," they supplemented the local flora with colorful signs saying "Save La'au" and "La'au Sacred." They staged an occupation at La'au Point. In dozens of meetings and hearings they challenged every aspect of the plan, every comma - especially its proposed use of the island's precious water supply. Many feared that a subdivision at La'au Point would change more than the shoreline. "If you have a lot of wealthy people moving in, who don't fathom life without a Starbucks, that starts to change the culture," explained Karen Holt, 56, an opposition leader and director of the Molokai Community Service Center. "Don't just come and make it a pentamillionaire's estate." In late March, the battle abruptly ended. Molokai Ranch, which was losing an estimated $300,000 a month, announced that it was shutting everything down: the hotel, the tentalows, the movie theater, the golf course, the development plans. More than 100 jobs lost, just like that. In explaining the decision to "mothball" the ranch, its chief executive, Peter Nicholas, said, "Unacceptable delays caused by continued opposition to every aspect of the master plan means we are unable to fund continued normal company operations." Today, nearly nine months later, the Kaluakoi Hotel remains deserted, the ocean view from its Ohia Lodge enjoyed by no one. A few miles away, glorious spider webs stretch undisturbed on the grounds of the closed Molokai Ranch Lodge. The quiet in western Molokai seems both natural and unnatural. The ranch's owners, who apparently anticipated the current economic free fall, have not revealed their plans for the third of Molokai they own. "At this time we simply are putting the past behind us and are moving forward," a spokesman said by e-mail, though he did not say what "moving forward" means. Here on the island, words said in the past still sting for some, but are forgiven or forgotten by others. Ritte and Sabas, who as younger men fought together against other development plans for Molokai, spoke to each other the other day. Each still maintains that his was the just cause. Some, including Ritte and Holt, harbor dreams of buying Molokai Ranch and restoring much of the land as a low dryland forest, which they say would replenish the water supply and ultimately make Molokai more self-sufficient. A wind-farm company has already promised to chip in $50 million, though several times that would be needed. But no one knows whether the ranch would even sell to its adversaries. And there is another challenge: achieving this elusive thing called pono. ============================== http://www.iht.com/articles/2008/12/08/business/econ.php Economic signals point to long, deep recession ... There is no guarantee, of course, that November's numbers will be the worst of the current round of layoffs. Now that the full magnitude of the financial crisis is apparent, companies are tightening their belts further. Just last week, AT&T, CreditSuisse, DuPont and Viacom announced deep cuts. Dow Chemical said Monday that it would cut 5,000 jobs. Layoffs are expected in the financial and automotive industries after the new year. "This current environment requires action, and that's what we're doing," said Mohammed Nakhooda, a spokesman for Nortel Networks, the telecommunications equipment maker, which has lost business this fall from large corporate clients cutting costs. Nortel, based in Toronto, said it would cut about 1,300 jobs, or 5 percent of its work force, including some at its U.S. operations. It will also begin a hiring freeze and cut back on employee travel. "It's tough, but it's necessary," Nakhooda said. "The business environment has obviously changed pretty drastically over a short period of time." ... ==========================
when we emphasize the penis over the testicles, what we're doing is confusing the delivery system with that which is being delivered
the Greeks weren't confused
which is why the testicles are so prominent in their art

---

---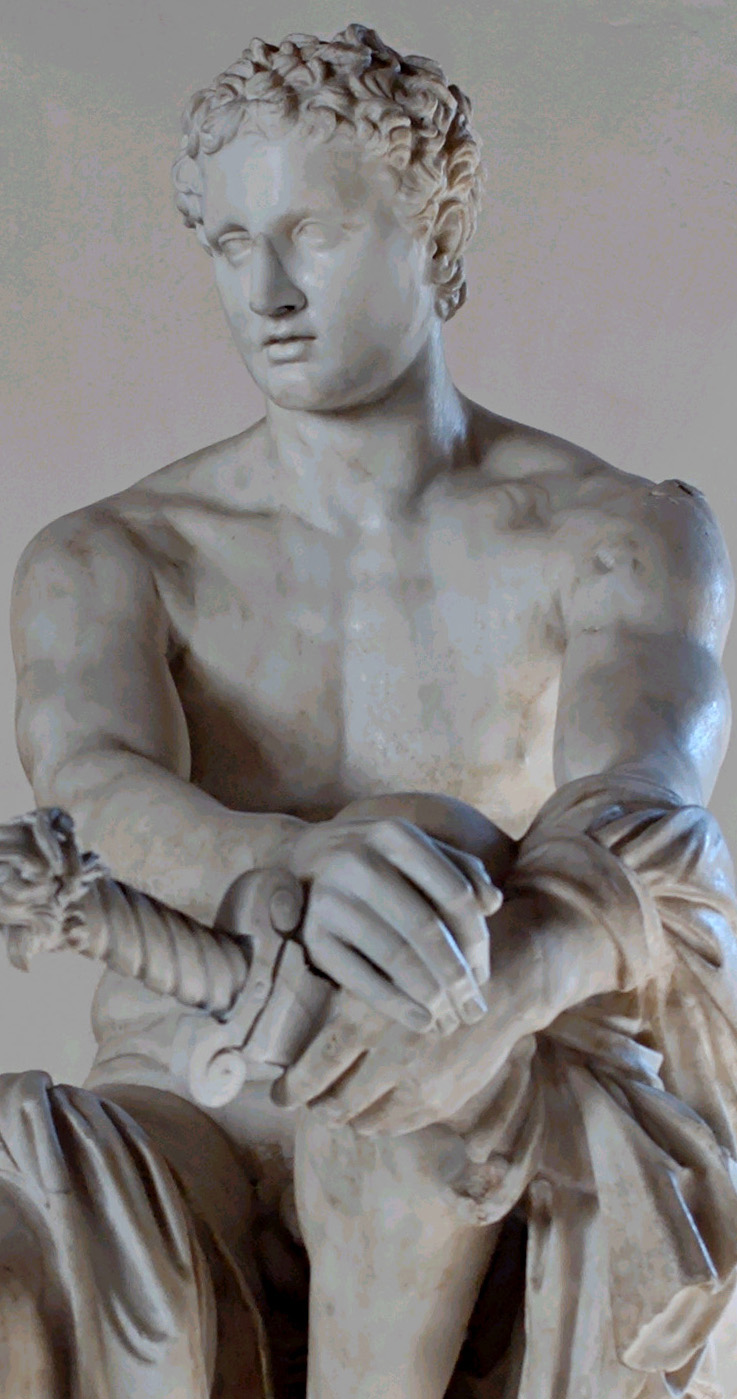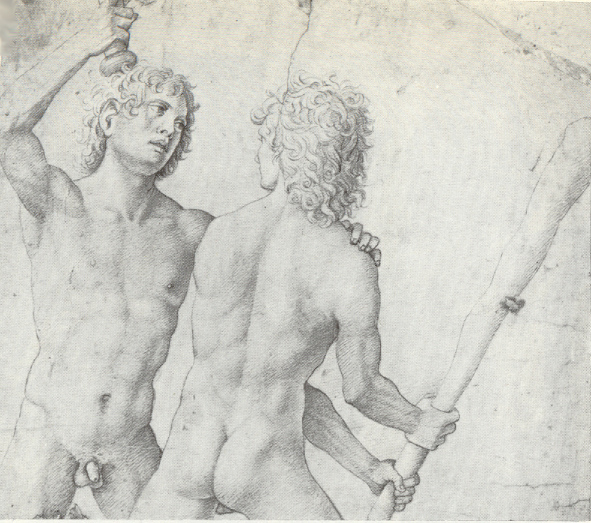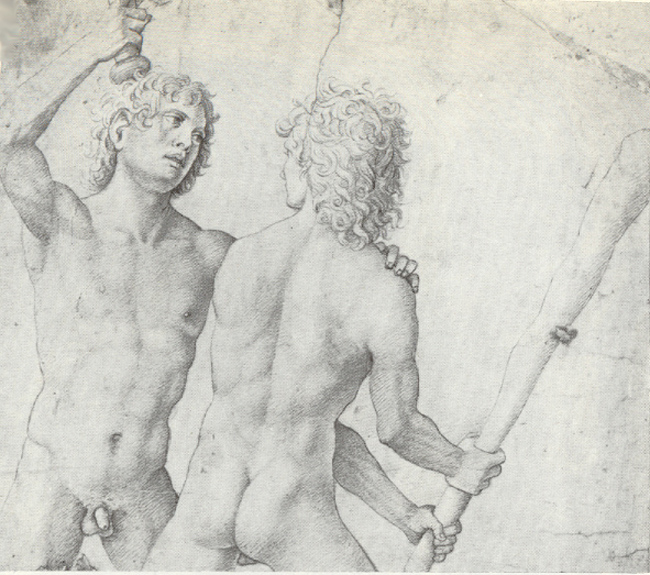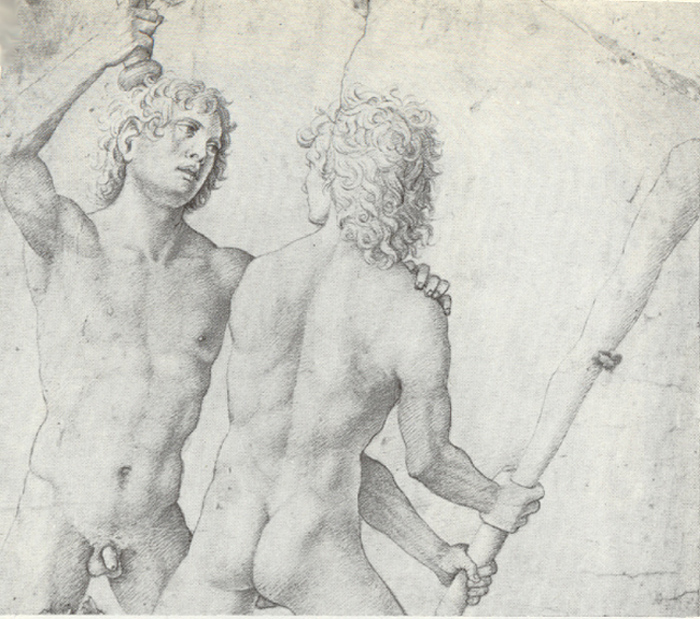 ---

---





---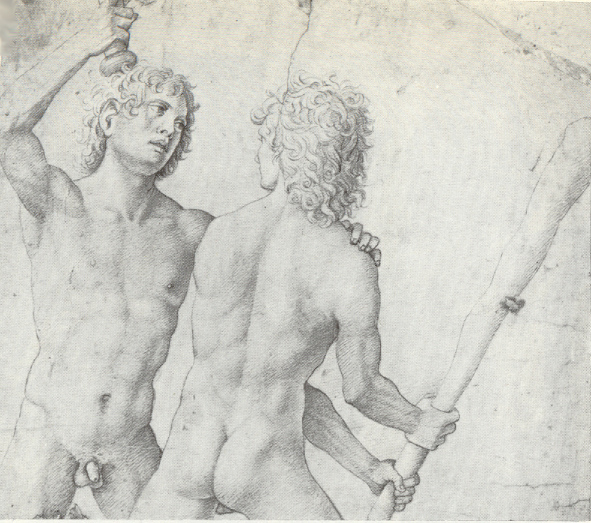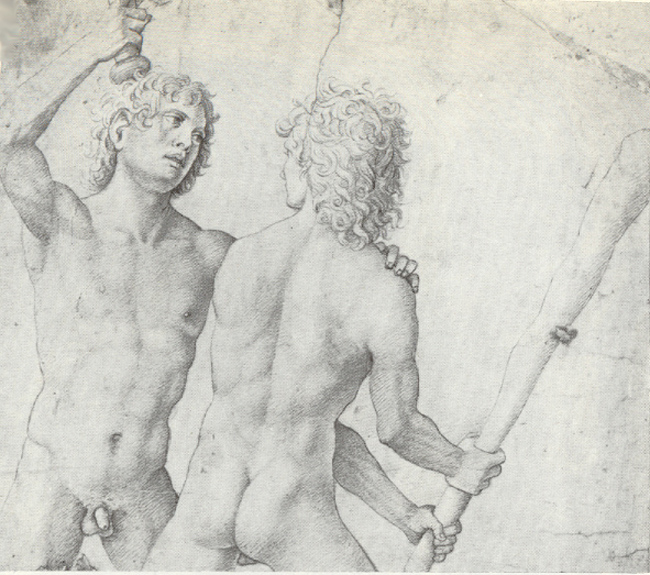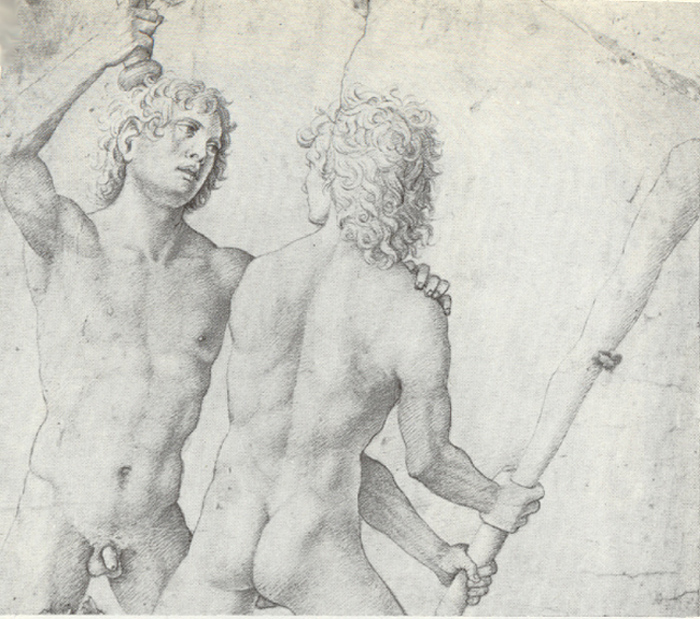 ---



---

---

---



---
]]] In 1987 the Reagan administration decided to remove Paul Volcker as chairman of the Federal Reserve Board and appoint Alan Greenspan in his place. Volcker had done what central bankers are supposed to do. On his watch, inflation had been brought down from more than 11 percent to under 4 percent. In the world of central banking, that should have earned him a grade of A+++ and assured his re-appointment. But Volcker also understood that financial markets need to be regulated. Reagan wanted someone who did not believe any such thing, and he found him in a devotee of the objectivist philosopher and free-market zealot Ayn Rand.
---

---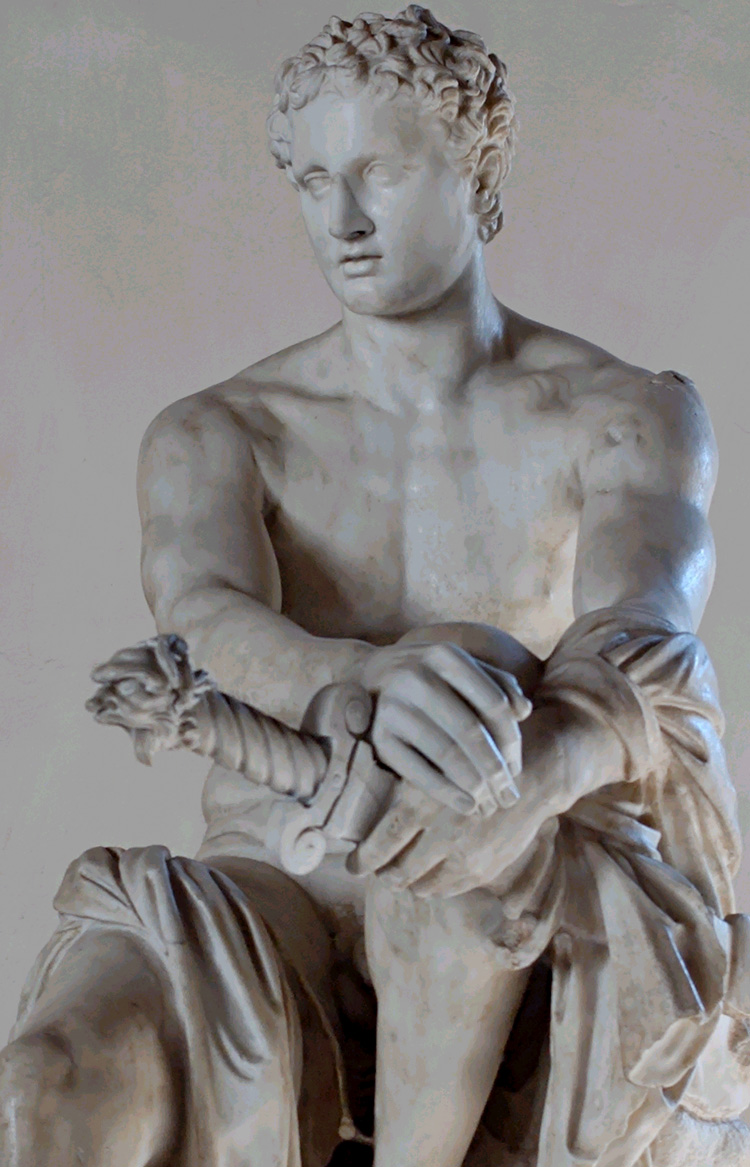 "I (as I believe you) exist in a world of possibilities, looking forward to what could happen, as opposed to looking backward & thinking of reasons why things can't happen."
"Frot strengthens your manhood in every way."
"it may take a little while, but I have faith you'll have an army of warriors fighting alongside you for the promiscuity, effeminacy, and disease-free m2m world you envision." http://www.nytimes.com/2008/12/14/magazine/14wwln-lede-t.html?em The Way We Live Now The Remedist By ROBERT SKIDELSKY Published: December 12, 2008 Among the most astonishing statements to be made by any policymaker in recent years was Alan Greenspan's admission this autumn that the regime of deregulation he oversaw as chairman of the Federal Reserve was based on a "flaw": he had overestimated the ability of a free market to self-correct and had missed the self-destructive power of deregulated mortgage lending. The "whole intellectual edifice," he said, "collapsed in the summer of last year." Gordon Anthony/Getty Images John Maynard Keynes, 1923 "Economists set themselves too easy, too useless a task if in tempestuous seasons they can only tell us that when the storm is long past the ocean is flat again." What was this "intellectual edifice"? As so often with policymakers, you need to tease out their beliefs from their policies. Greenspan must have believed something like the "efficient-market hypothesis," which holds that financial markets always price assets correctly. Given that markets are efficient, they would need only the lightest regulation. Government officials who control the money supply have only one task — to keep prices roughly stable. I don't suppose that Greenspan actually bought this story literally, since experience of repeated financial crises too obviously contradicted it. It was, after all, only a model. But he must have believed something sufficiently like it to have supported extensive financial deregulation and to have kept interest rates low in the period when the housing bubble was growing. This was the intellectual edifice, of both theory and policy, which has just been blown sky high. As George Soros rightly pointed out, "The salient feature of the current financial crisis is that it was not caused by some external shock like OPEC raising the price of oil. . . . The crisis was generated by the financial system itself." This is where the great economist John Maynard Keynes (1883-1946) comes in. Today, Keynes is justly enjoying a comeback. For the same "intellectual edifice" that Greenspan said has now collapsed was what supported the laissez-faire policies Keynes quarreled with in his times. Then, as now, economists believed that all uncertainty could be reduced to measurable risk. So asset prices always reflected fundamentals, and unregulated markets would in general be very stable. By contrast, Keynes created an economics whose starting point was that not all future events could be reduced to measurable risk. There was a residue of genuine uncertainty, and this made disaster an ever-present possibility, not a once-in-a-lifetime "shock." Investment was more an act of faith than a scientific calculation of probabilities. And in this fact lay the possibility of huge systemic mistakes. The basic question Keynes asked was: How do rational people behave under conditions of uncertainty? The answer he gave was profound and extends far beyond economics. People fall back on "conventions," which give them the assurance that they are doing the right thing. The chief of these are the assumptions that the future will be like the past (witness all the financial models that assumed housing prices wouldn't fall) and that current prices correctly sum up "future prospects." Above all, we run with the crowd. A master of aphorism, Keynes wrote that a "sound banker" is one who, "when he is ruined, is ruined in a conventional and orthodox way." (Today, you might add a further convention — the belief that mathematics can conjure certainty out of uncertainty.) But any view of the future based on what Keynes called "so flimsy a foundation" is liable to "sudden and violent changes" when the news changes. Investors do not process new information efficiently because they don't know which information is relevant. Conventional behavior easily turns into herd behavior. Financial markets are punctuated by alternating currents of euphoria and panic. Keynes's prescriptions were guided by his conception of money, which plays a disturbing role in his economics. Most economists have seen money simply as a means of payment, an improvement on barter. Keynes emphasized its role as a "store of value." Why, he asked, should anyone outside a lunatic asylum wish to "hold" money? The answer he gave was that "holding" money was a way of postponing transactions. The "desire to hold money as a store of wealth is a barometer of the degree of our distrust of our own calculations and conventions concerning the future. . . . The possession of actual money lulls our disquietude; and the premium we require to make us part with money is a measure of the degree of our disquietude." The same reliance on "conventional" thinking that leads investors to spend profligately at certain times leads them to be highly cautious at others. Even a relatively weak dollar may, at moments of high uncertainty, seem more "secure" than any other asset, as we are currently seeing. It is this flight into cash that makes interest-rate policy such an uncertain agent of recovery. If the managers of banks and companies hold pessimistic views about the future, they will raise the price they charge for "giving up liquidity," even though the central bank might be flooding the economy with cash. That is why Keynes did not think that cutting the central bank's interest rate would necessarily — and certainly not quickly — lower the interest rates charged on different types of loans. This was his main argument for the use of government stimulus to fight a depression. There was only one sure way to get an increase in spending in the face of an extreme private-sector reluctance to spend, and that was for the government to spend the money itself. Spend on pyramids, spend on hospitals, but spend it must. This, in a nutshell, was Keynes's economics. His purpose, as he saw it, was not to destroy capitalism but to save it from itself. He thought that the work of rescue had to start with economic theory itself. Now that Greenspan's intellectual edifice has collapsed, the moment has come to build a new structure on the foundations that Keynes laid. Robert Skidelsky is the author most recently of "John Maynard Keynes: 1883-1946: Economist, Philosopher, Statesman." ==========================================



---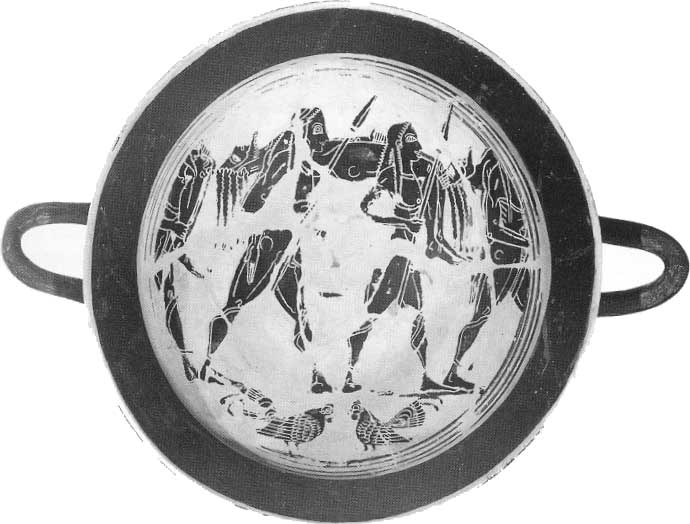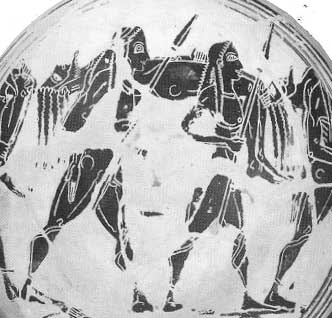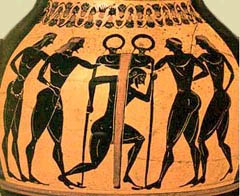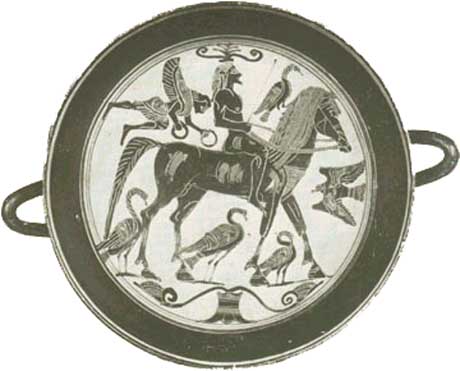 A Spartan horseman is crowned by Nike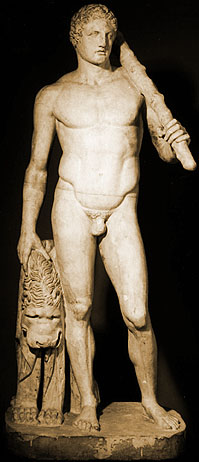 12345678910


Spartan Hoplites

---


---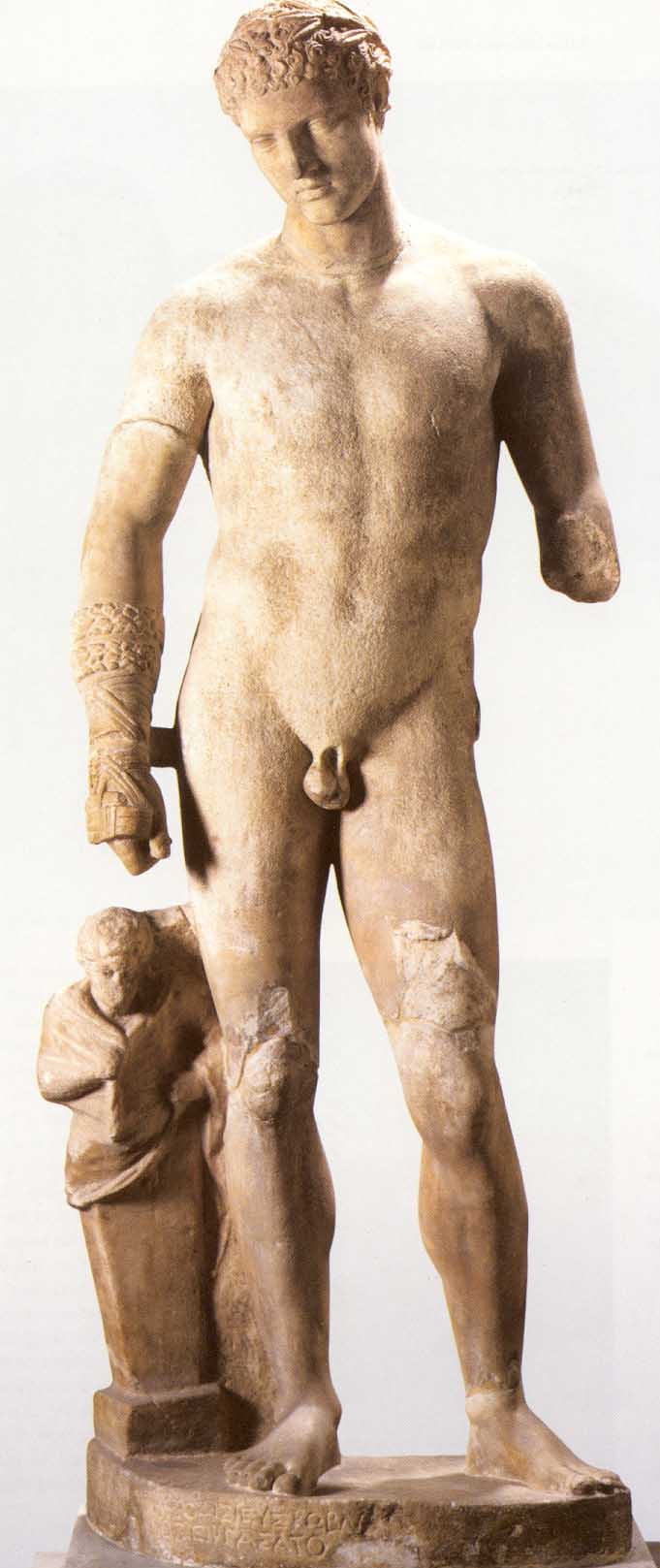 So: we've seen that societies can be run on a combination of greed and "free" markets -- and I put free in quotation marks because we've seen that such markets are easily gamed;
and that societies which value greed and the market place soon devolve into the worship of money and objects --
which is why "prosperity ministries" are so popular in the US;
or -- societies can be run virtuously --
As the poet says, speaking of the Greek city of Aitna,
For they are lovers of horses here
and men who have souls superior to
possesssions. My words are hard to believe, for the sense
of honor that brings shame is secretly stolen by
greed for gain.
~ Pindar, Nemean 9, translated by Wm Race
---
And, once again, the goal of all the elements is to replace the individual value of wealth -- with the communal value of excellence.
[in talking about apollo, use image of his austere but sturdy body at Olympia, talk about how the Olympics too were austere -- no equipment, no teams -- you just showed up and competed] http://www.nytimes.com/2008/12/28/business/28wamu.html?_r=1&th&emc=th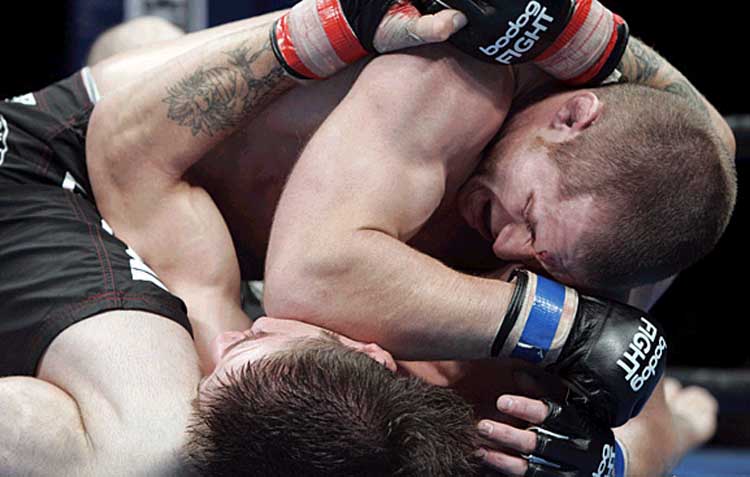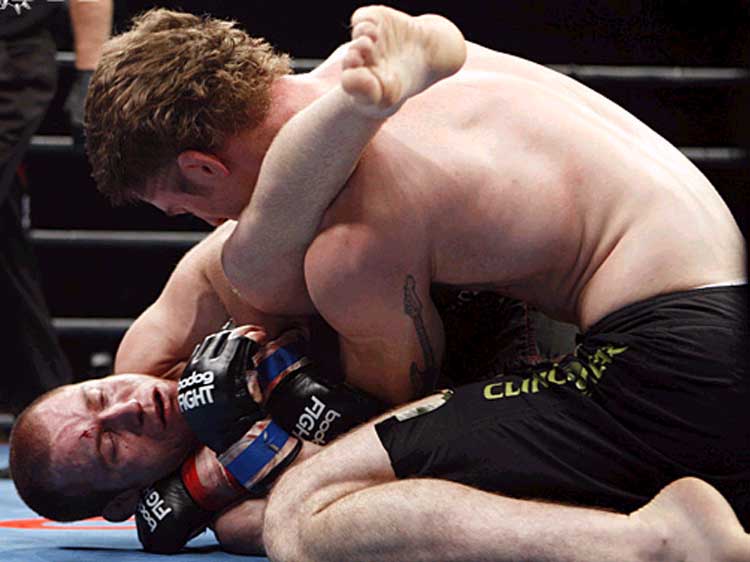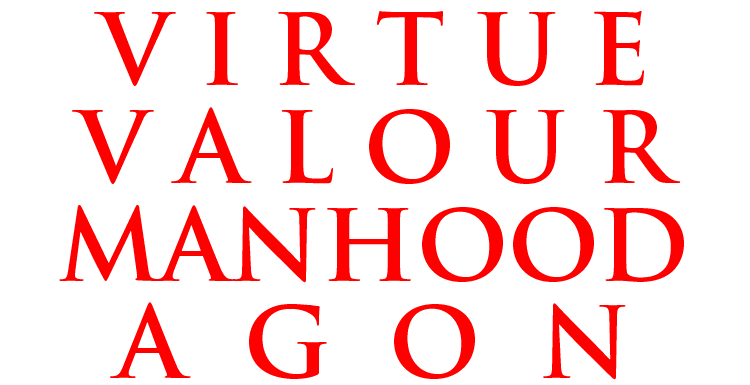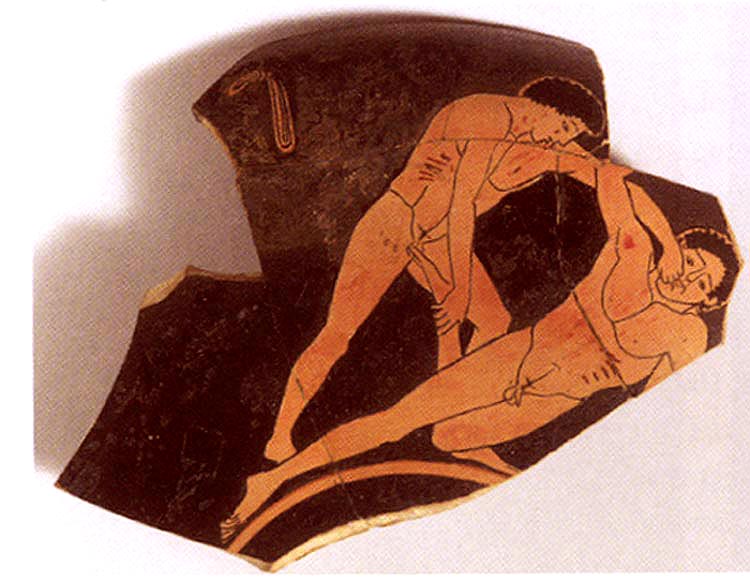 The Spartans had slaves; we have machines which are powered by fossil fuels or by electricty which is by and large generated through fossil fuels.
Both the Spartan slaves and our machines are what used to called the "means of production."
The question here is not the means of production per se;
but the uses to which the means of production are put.
In other words, the Spartans used their slaves to produce food;
and that left the Spartans free to pursue areté, which to them was the only thing worth pursuing.
They didn't use their slaves to build pyramids, because they weren't interested in pyramids -- they were interested in areté;
and being free to live their austere and equal lives as they saw them.
We, by contrast, use our machines not to give us the freedom to pursue areté, but to produce junk, which we buy and sell.
That's what we do.
And that's why we're in so much trouble.
Because junk, rather than excellence, is what's core to our culture.
nudity in Greek art is, more often than not, a depiction of reality

The Spartan Army
[tie it all together here -- talk about the relationship between egalitarianism, warriordom, the agon, same-sex love aka Eros and the phallic contest --
That never happened to the Greeks.
But it did to the Romans.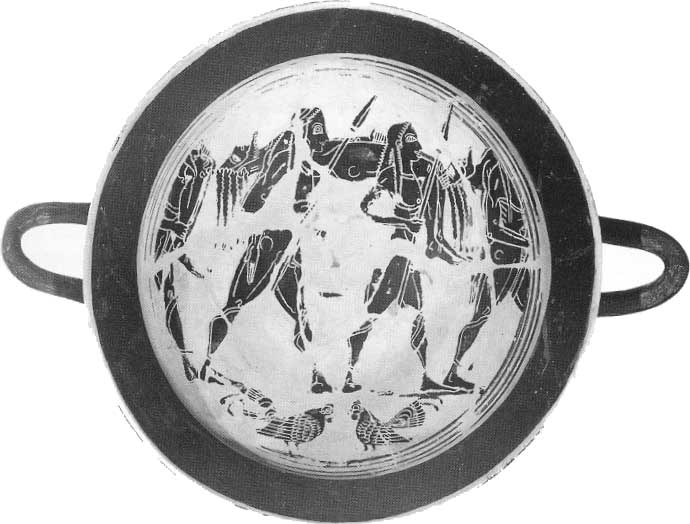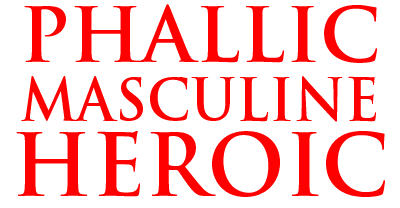 [For example, Arianna Huffington, who's very rich, and whose daughter "came out" at this year's debutante ball, had a column a few days ago condemning the notion of "from each according to his abilities, to each according to his needs."
Huffington seems to think that's communistic.
In point of fact, lots of institutions in our own society, including every fire department, work on just that basis.]